With the royal wedding of Meghan Markle and Prince Harry quickly approaching (you know May 19 is circled on my calendar), we're all speculating on what the fabulous and fashionable Megan will wear, how she'll do her hair, and—what I'm most anticipating— Meghan Markle makeup looks!
Being part of the British dynasty requires certain fashion etiquette; those hats anyone? And while Meghan's already made some waves (because ripped jeans are a big deal), I'm interested to see just how far she's going to push the envelope.
To prepare for what promises to be a extravagant and iconic big day, I've rounded up six of my favorite Meghan Markle makeup looks, all of which would be beautiful as she walks down the aisle.
Simple on Suits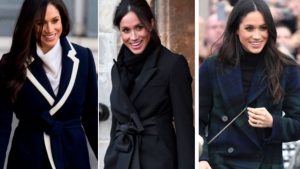 Lawyer Meghan in the house! Known mostly for her role on the television drama Suits, before becoming engaged to Prince Harry; here these looks out and about are super simple and practical all while still keeping her a STUNNA.
To get this look, start by evening out your face with my full-coverage yet lightweight cream to powder foundation. Remember.. Taking some out with a spatula and spreading it across your palette to make it creamier will avoid the caked look. Finish off the face with a matte blush. You'll get a nice warm glow without the sparkle and shine that is not so appropriate for the courtroom!
Finish it off with smudge-lined top and bottom lids, a healthy coat of mascara, and a mauve lipstick.
Glowing on the Today Show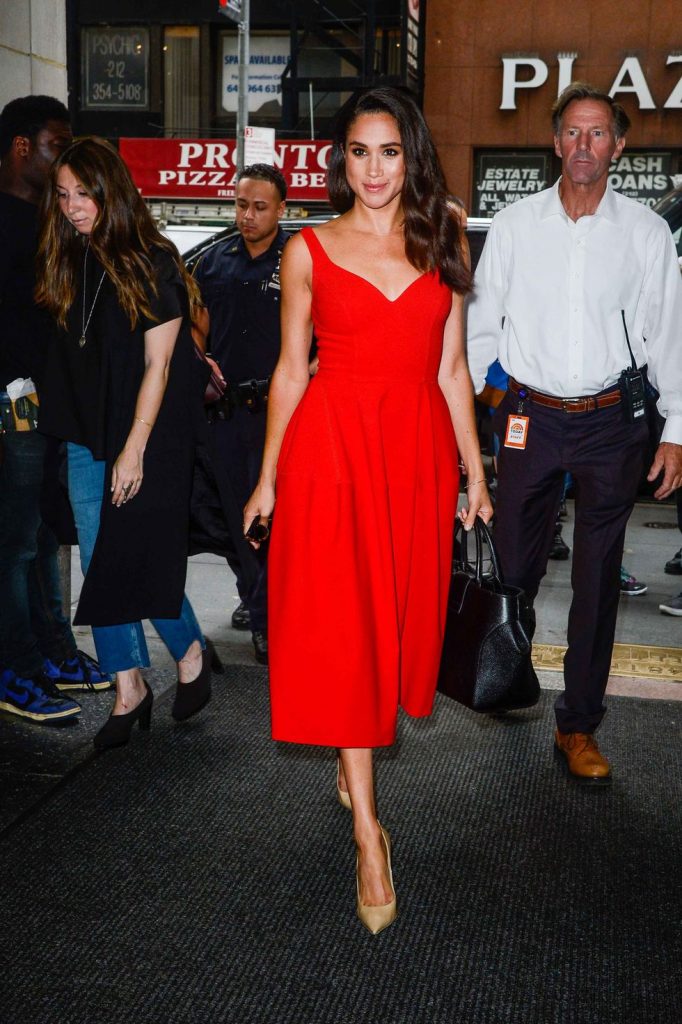 Meghan is giving us full-glow from head to toe in this shot from a 2016 appearance on the Today Show. Paired perfectly with her vibrant red dress, has me LOVING this look. As I've said before, I'm all about glossy natural looking skin (AKA the big thing in 2018, looks like Meghan was ahead of the trend). Here she is only enhancing her beauty by highlighting all the right spots and topping it off with a strong brow and  light sheer lipgloss.
The secret to true gloss is to mix a combinations of oils, moisturizer, and foundation. This softens the texture and applies it more smoothly to your skin. My tip, start with Laura Mercier's 'Flawless' Rose Oil, which is made to condition your skin with nutrients. Next, add one pump of my Bosso SKINtillating Liquid, made to capture light and leave skin glistening into my Bosso Cream Foundation (or your favorite liquid foundation). TADA! #glowvibes
Sophisticated and smiling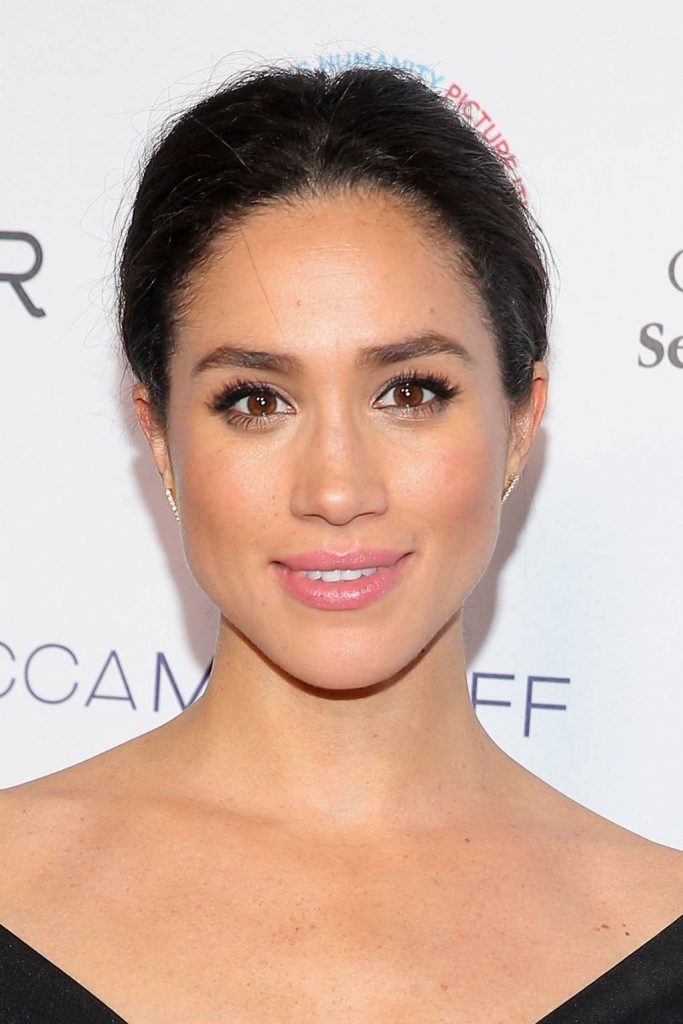 Isn't she adorable? This Meghan Markle makeup look is super light and refreshing, perfect for a spring day. First, what really sets this apart is how Meghan pulls her hair back, taking away any distraction from her face. Then she plays it up super simple with a more toned down version of the glossy look from above: with slight less shine and natural bushy brows and leaving most of the eye makeup on the upper portion.
My favorite touch, the pop of her shimmery candy-pink lipstick.
The sultry starlet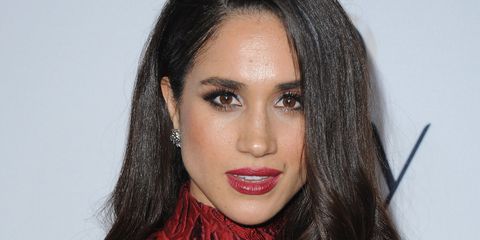 Now this screams sultry starlet. Most of Meghan's other looks are very toned down and not typical Hollywood, this is one of the few picks that is super red carpet-glam. Not only is she upping her eye game with long full-lashes, a smudgy cat eye, topped off with a smokey and shiny silver shadow, but she's totally turning heads with that wine-colored lipstick.
Not only does it pair perfectly with her burgundy ensemble, but the shade, similar to my Wicked Boss or Bitchy Boss, is a step away from the arresting red that tons of stars always gravitate toward. It also has a sheer and blotted quality to it that makes it appear more natural and less perfect; your lips don't always need to be rigidly lined to be on point!!
Royal ready and barefaced
Post-engagement (peep that diamond ring she's showing off), Meghan is super neutral and nude with look, and I'm not just talking about her cream sweater and coat. This is about as close to a no-makeup look you can get while wearing makeup.
Letting all of her freckles and beauty marks shine through, Meghan is super relatable with this appearance—I mean all of us non-royalty don't always go out with a perfectly put together face. #truthbethat!
The blushing bride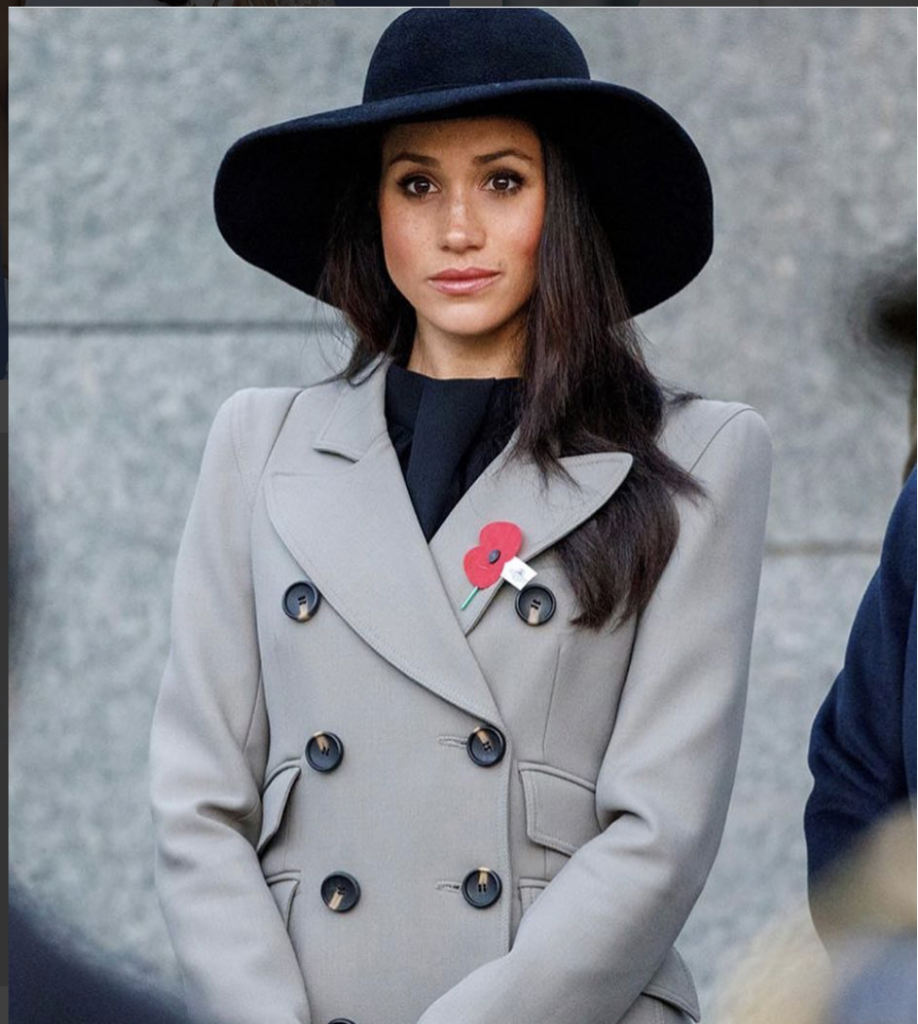 Okay, why wouldn't she be glowing with her wedding to prince charming (literally) right around the corner? And while there's definitely a natural shine there, happiness shows after all, Meghan is taking full advantage and enhancing it with perfect makeup.
To easily get this subtle but stunning look, apply a peach blush to the tops of your cheeks and carry it downward towards the corners of the mouth. Gives a natural flushed effect. Then accent with a bit of shine from a matching highlighter to the tops of the cheekbones.
Are you looking forward to the royal wedding? Any guesses what makeup look Meghan will rock? Let me know your favorite Meghan Markle makeup look and thoughts on anything and everything royal wedding in the comments!