Kaia Gerber has been on my radar for awhile. The first time I saw her I knew she was THE model to watch out for! Now here she is two years later on the top of every fashion designers list as the "it" model to grace their runways.
If you're not in the fashion/beauty world or anti social media driven you may have never heard of Miss Kaia, but she's soon to be a household name. She's a highly in demand supermodel who recently took over fashion week at – get this – ONLY SIXTEEN YEARS OLD! This stunning teenage beauty is taking hold of the fashion reigns (handed down by her gorgeous mom) and slaying the industry.
To her credit, she was born to be a model mogul to own the runway – it's literally in her genes. Kaia is the daughter of businesswoman and the supermodel of all supermodels Cindy Crawford and multimillionaire famed businessman and once a model himself Rande Gerber (Gerber Group; Casamigos Tequila).
Look at what Cindy and other 90's models have done to pave the way for models today… Cindy being the pioneer of them all, was named the highest paid model on THE PLANET in 1995 and was coined as one of the original "Big Five" supermodels.
Take a look at a few of the original supermodels that slayed the universe in the 90s: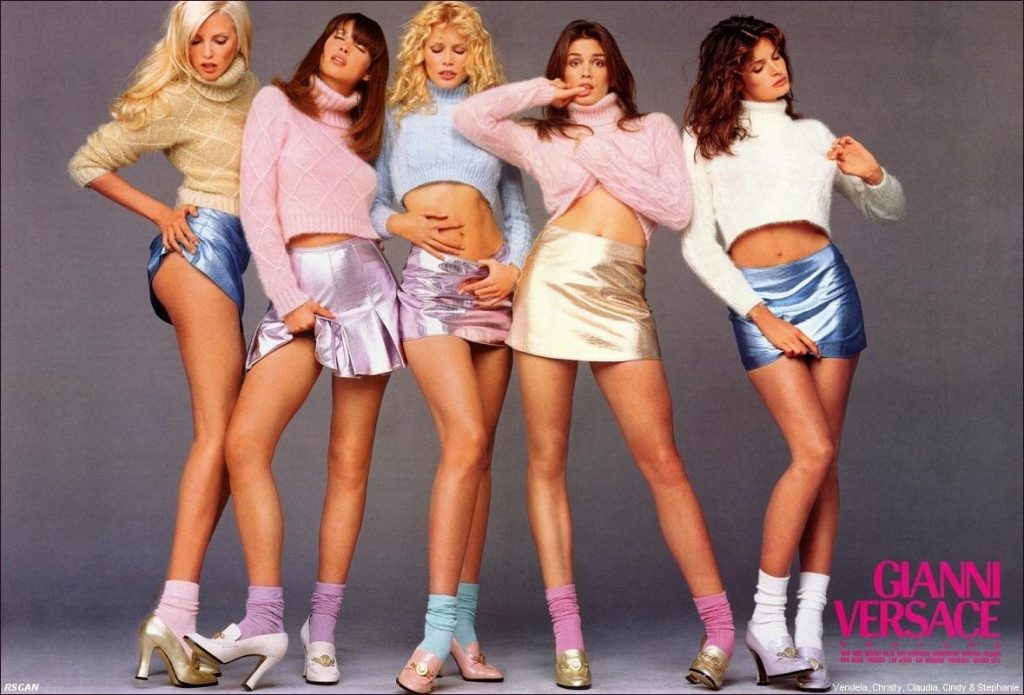 So much beauty in one picture – can you even?
Now, don't get confused, the original "Big Five" supermodels of the 90s who were elevated to super stardom by Gianni Versace were: Linda Evangelista, Cindy Crawford, Christy Turlington, Tatjana Patitz, and Naomi Campbell. As a model obsessed child myself, I can name at least a dozen more (some pictured above) that the world touted as the world's top super models along with Versace's picks. But that's another blog, and I'll be SO happy to cover……
Check this "twinsy" Vogue cover of Kaia and her mama Cindy: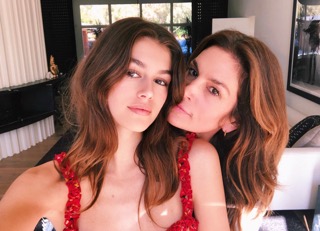 Talk about "wow factor"! She's the spitting image! Total sisters!
Cindy's trademark was the mole just above her lip (yay for beauty marks!)… and even Kaia has a slight beauty mark on the bottom corner underneath her lip. Those are some strong genetics! But the one that got the real deal mole is her runway model son, Presley. Swooooon…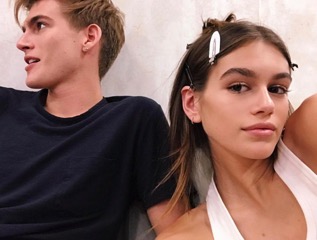 Don't you love how supportive Cindy is of Kaia following in her modelling footsteps? The stories, tips, and tricks, Kaia must get from the queen fashion insider herself must be unreal!!  Those Christian Louboutin pumps may be huge stilettos to fill, but teenage Kaia is on the fast track to becoming just as big of a sensation as legendary Cindy C. Possible? I believe! I believe!
Here are some of my favorite makeup looks that Kaia has rocked on the runway: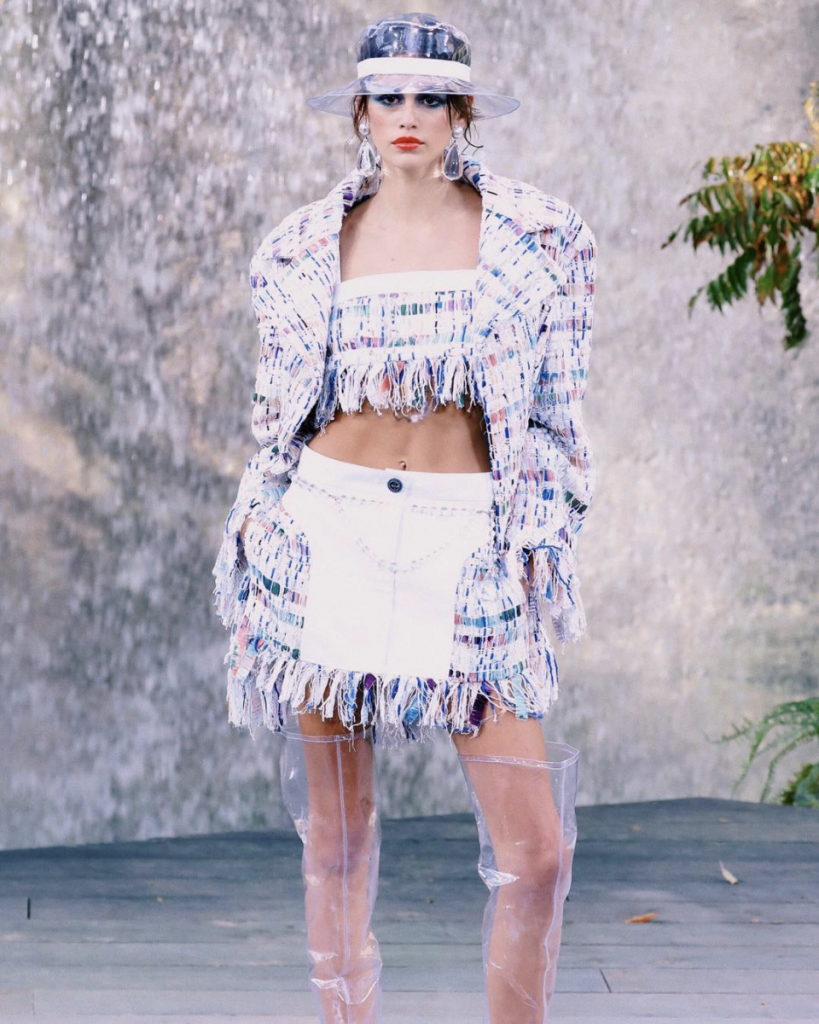 Here's Kaia opening Chanel's show during fashion week. On her Instagram, Kaia shouted out Karl Lagerfeld for creating his iconic brand and showed her excitement for opening the show.
I am in love with the smoldering blue hues splashed on her eyes and the orange lip that is on trend for this fall.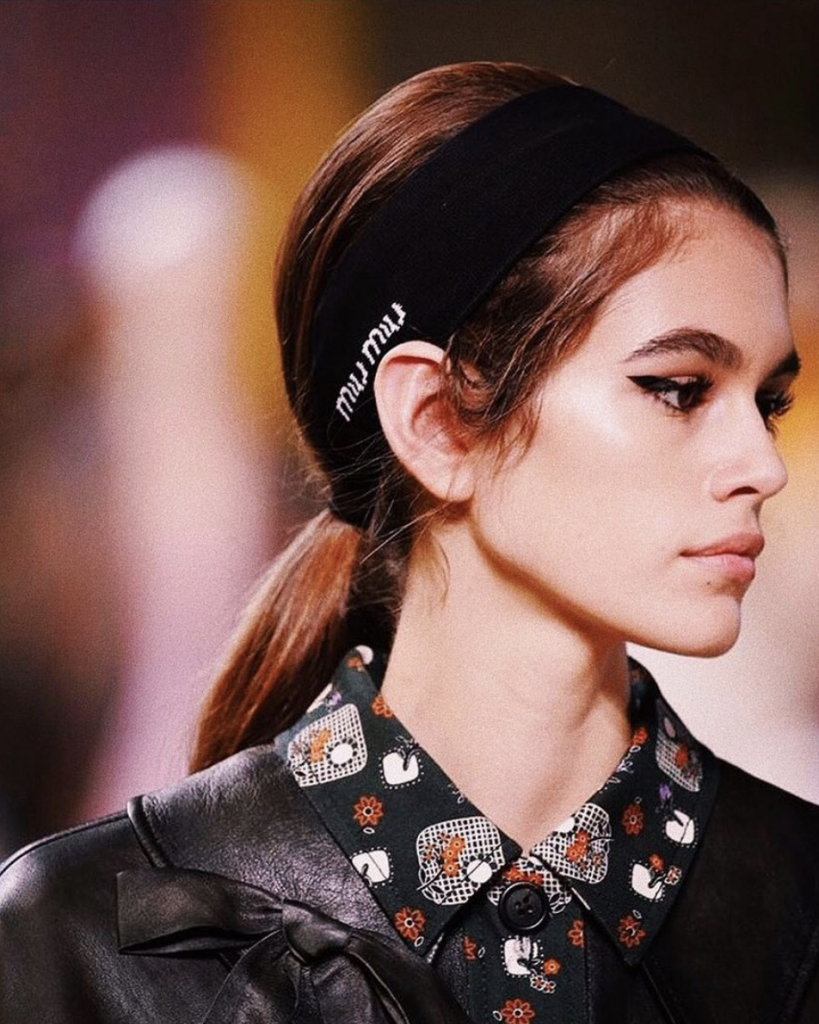 Kaia consistently walks in high-end fashion shows. Here she is modeling for the Italian high fashion line, Miu Miu.
In love with this look of thick geometric, wedge-like cat eyes, her naturally thick shaded in brows, and neutral toned lip. This is easy to achieve and would be perfect to rock if your outfit has a bold pattern.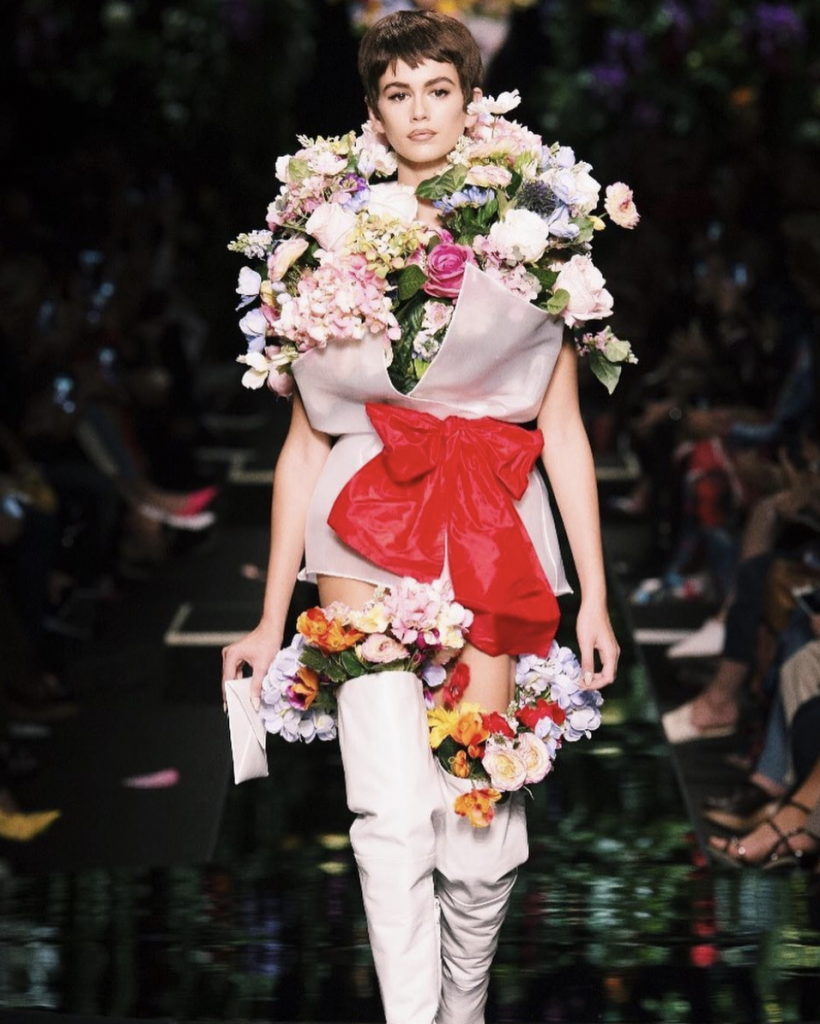 So, there's a lot going on with her outfit during the Moschino show a few weeks ago. But don't let those flowers deter you from how stunning Kaia looks with a simple cat eye, brown shadow blended up to her brows, and earthy-lined lips. Get it? Earthy tones and flowers? Ah.. I love makeup artists and their correlations they create. The short hair she's rocking during this walk gives me some serious Mia Farrow vibes.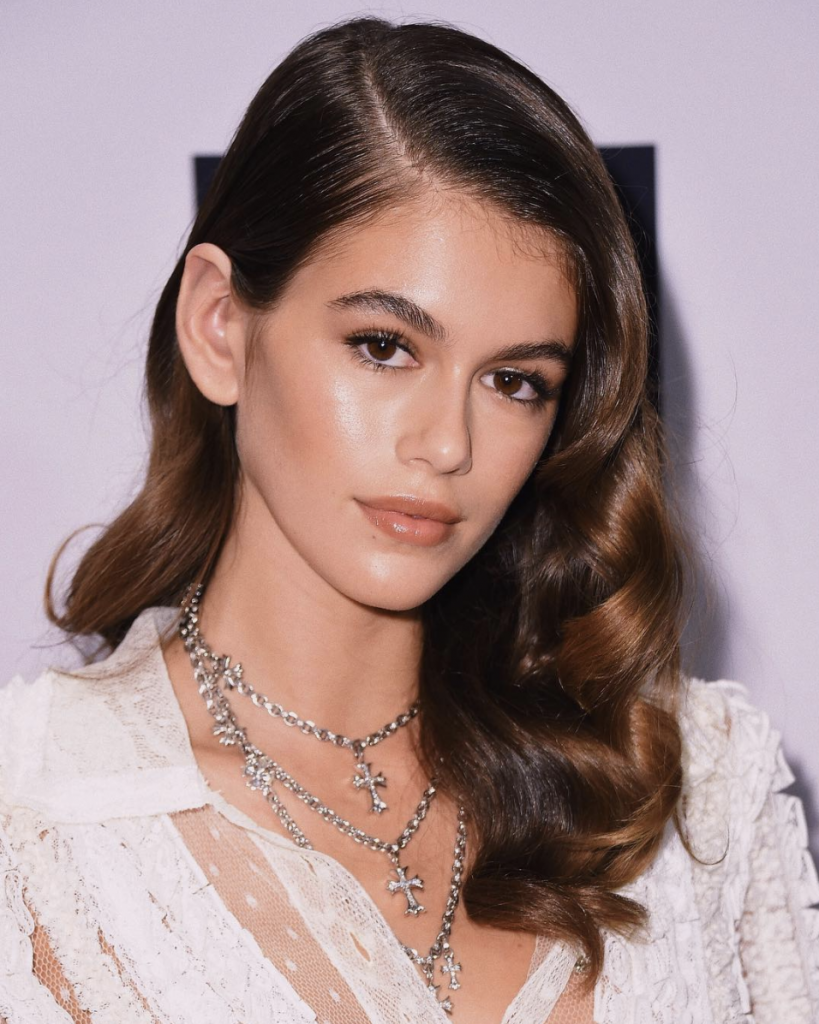 At first glance, I thought this pic was Cindy! Kaia is as radiant as ever in this pic with a glow like no other. Her simple bronze smokey eye and feminine faux lashes pair beautifully with the apricot lipstick that she's donning.
OMG! That coif in the New Marc Jacobs Campaign…. So R A D!!
Recently, Kaia was signed to be the face of the new Marc Jacobs Beauty campaign. One amazing thing about owning brown eyes, is that any shade of eyeshadow color looks amazing.. Especially blues and greens as Kaia is shown on the runway slaying the smoky blue hues and giving me serious 80's vibes. Add in a sexy bronze sheen and neutral based lips, et voila! She's a queen!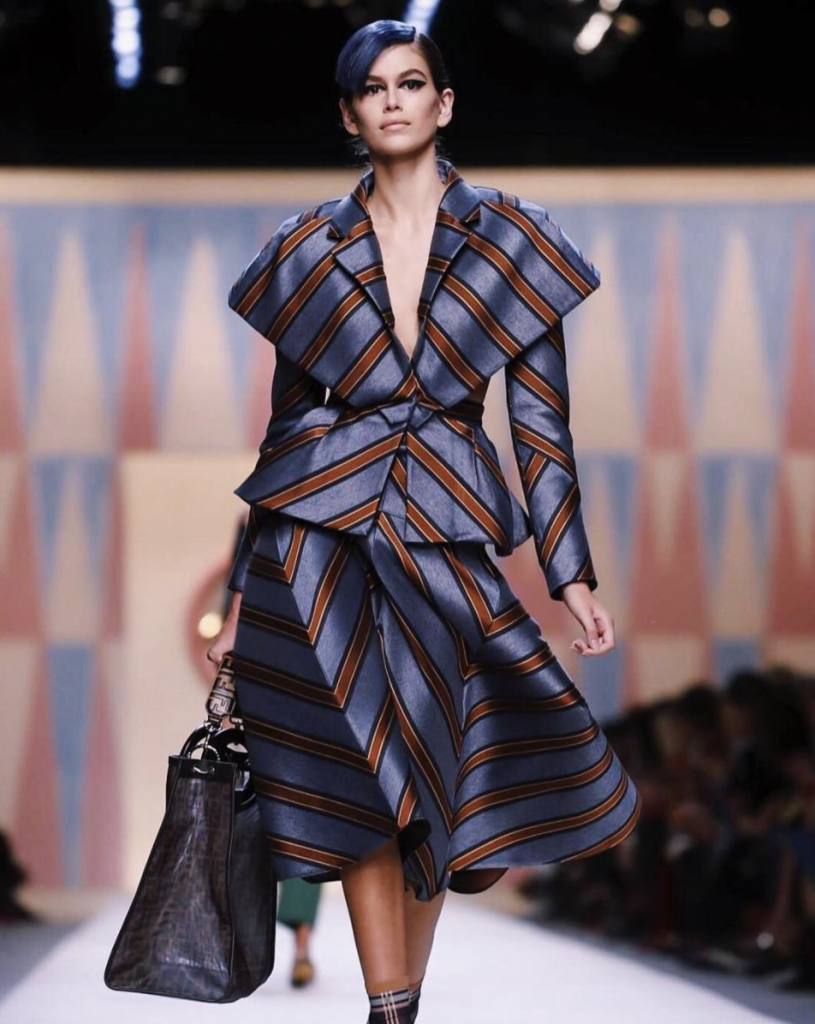 Kaia is seriously WORKING those blue bangs and chunky black abstract eye makeup. She's owning the catwalk as the opening supermodel for Fendi's show in Milan. Did you pick up on the heavy contour that allows her cheekbones to pop and match the hard angles of her outfit? I did! Once again.. genius fashion week makeup artists! #CelebrityMakeupArtistEagleEyes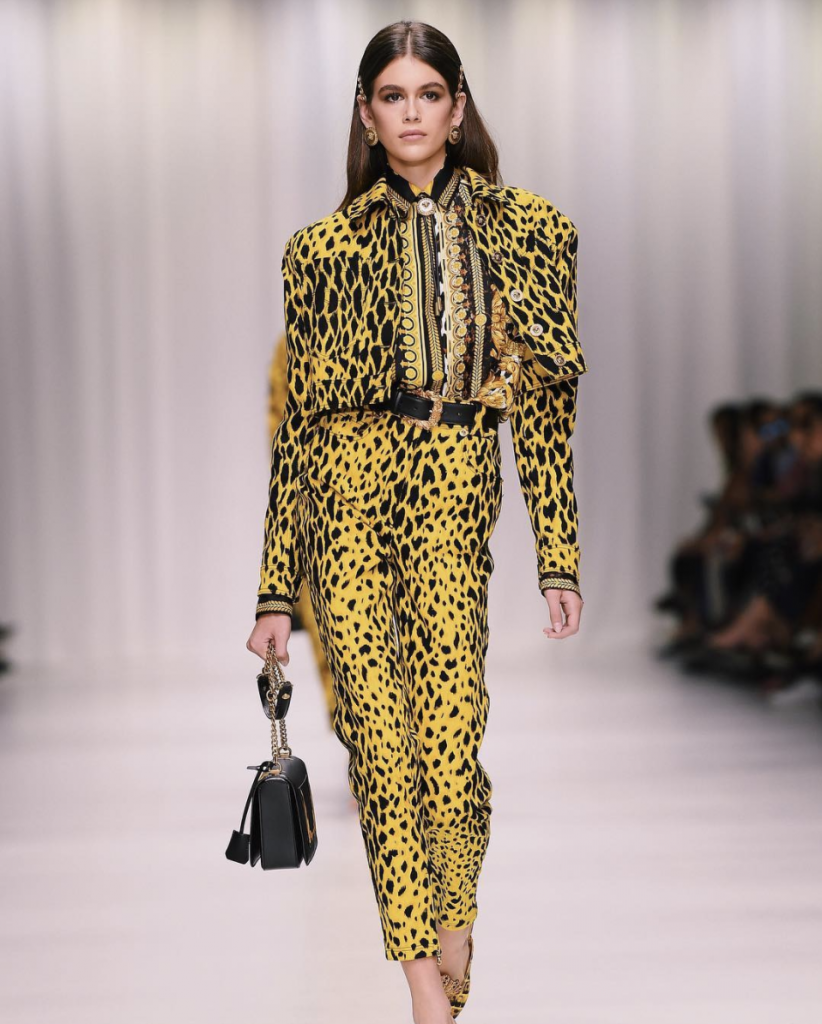 Kaia gave some good swag alongside her fellow millennium super's on the catwalk during the Versace show at fashion week two weeks ago. But… the excitement didn't stop just there….   she and everyone were surprised by the OG's of 90's model mayhem at the closing of the show!
Gianni Versace was honoured by his sister Donatella on the 20th Anniversary of his despicable murder by reuniting the original Big Five on stage. Attendees went wild. After watching this splendor of a show, it took about a day for me to recover from my model hypnotism!! Simply fab!
Look at these forever icons:
SO MUCH YES. After all these years, they still look mind blowing amazing. Bravo, ladies!
Loved all these makeup looks on Kaia? Dreaming of seeing YOUR makeup looks on the runway in Milan? Learn how to master them yourself by snagging your seat at Bosso Makeup School in Los Angeles and becoming a Certified Professional Makeup Artist.
Make sure you follow me on Instagram @bossomakeupbeverlyhills, so you can stay up-to-date on the latest course dates, makeup trends, products, and tutorials.
Please follow and like us: