If you haven't been binge-watching your favorite TV shows that are nominated for the 2017 Emmy Awards, it's catch up time. God knows, I just had my fill of The Walking Dead (obsession), American Horror Story, and The Bates Motel.
The 69th annual Emmy Awards aired last night, September 17th on CBS with the hot and funny Stephen Colbert serving as this year's host.
Though, hearts broke everywhere when it was announced that Game of Thrones wasn't up for a nomination, the top five shows nominated this year are just as amazing and with on point makeup inspiration. Ummm… were you not wowed when the five hot mamas walked out on stage from Big Little Lies?!! Gaw-jus!!! Happy for Reese and Nicole's wins!!
Here's how to rock makeup looks from 5 emmy nominated shows:
Transparent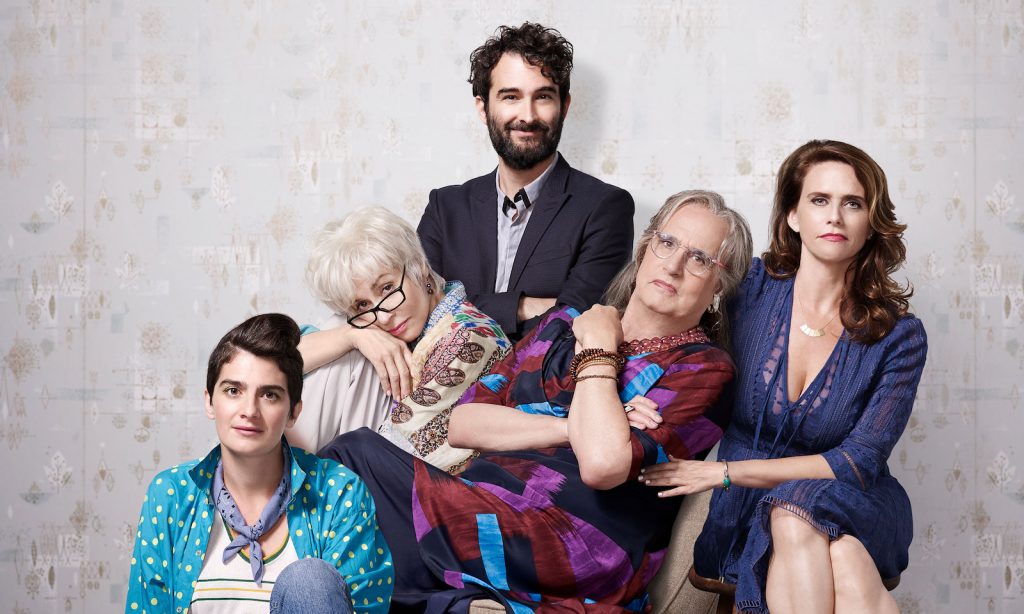 Transparent is a comedy-drama that revolves around an LA family and their lives following the discovery that their father is transgender.
The makeup on this show is done artfully in the fashion of "effortless everyday people" look, which as a pro artist I know it takes some skill to achieve a not-so-done look.
When you think of transgender makeup or drag makeup, you think it's going to be done perfectly flawless, (and some are downright AH-mazing!!) but in reality when TG's are transitioning, they are learning to get used to all kinds of "newness" and that includes makeup skills. That is what is so beautiful about this show – the raw realness of the characters and what they go through from day-to-day and the struggles from big to small.
I had the privilege of meeting Plastic Martyr, a gorgeous series regular, at the Teen Choice Awards Weekend last month.
Grace and Frankie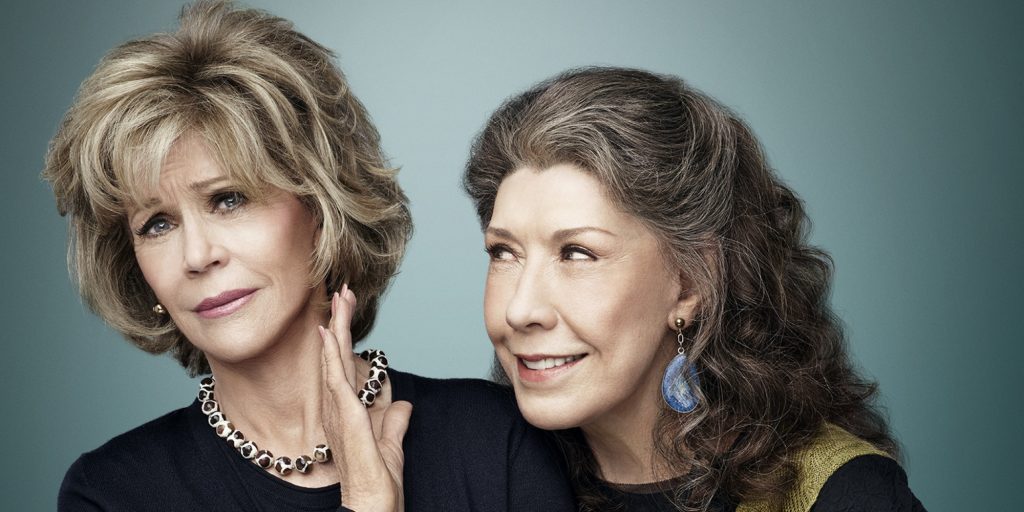 The legends from Grace and Frankie give me LIFE. The characters who are played by the ever sexy Jane Fonda and phenomenally funny Lily Tomlin, make 70 something look desirable.
I was hooked from the first episode when Grace (Fonda) returns home from dinner and strips the makeup off her face, takes the extensions off and pulls of the facelift tape hidden in her hairline to reveal the lax skin and just how much work us women go through to look stunning.
Since I first saw Fonda on the award winning movie On Golden Pond, she had me captivated by her gorgeousness and depth. Who can forget Tomlin from one of my favorite childhood movies, The Incredible Shrinking Woman?!! Hilarious!
To replicate the looks of these ageless lovelies, stick with neutral shadows, a peach or pink cream blush is always most youthful, cream or liquid dewy foundation, natural fake lashes (now there's an oxymoron), and a beautiful pop of lip color will brighten the face.
Want to look like Grace and Frankie every day? Learn how to fake a facelift with makeup by following this tutorial.
Westworld Makeup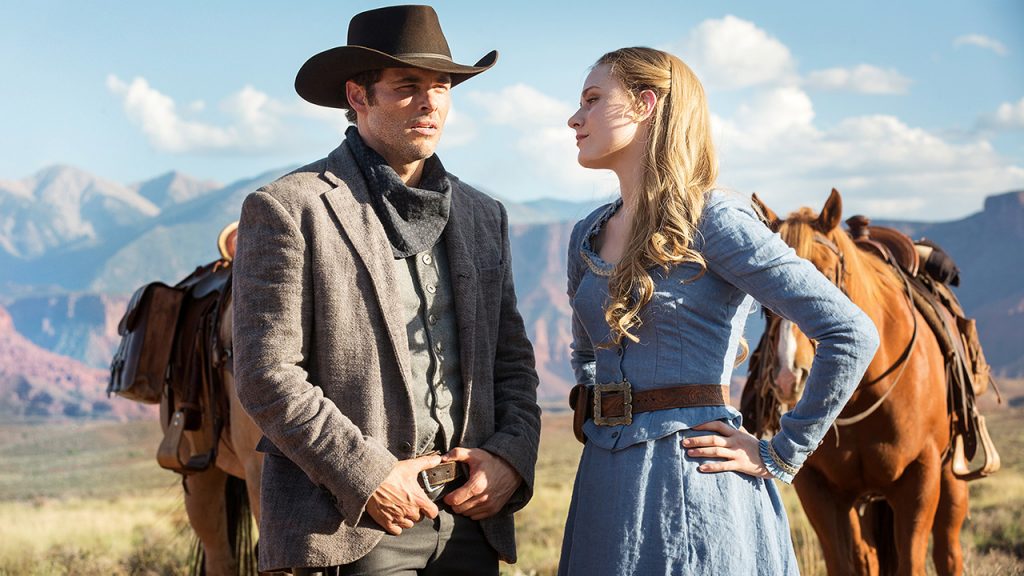 The western and futuristic universe of Westworld is seriously one of the easiest shows to replicate the makeup looks from.
We're talking neutral colored smokey eyes, no makeup makeup looks, and berry stained lips that look like you've been kissing for hours.
To look like you just walked off the Westworld set, you'll want to create a simple eye shadow blend using neutral base colors like Rome paired with Cafe Au Lait. Keep the rest of you makeup simple, don't heavily contour.
Bosso Pro Tip: Add a smidge of blush to your cheeks or simply pinch them to give your face a natural rosy glow.
Bette and Joan: The Divine Feud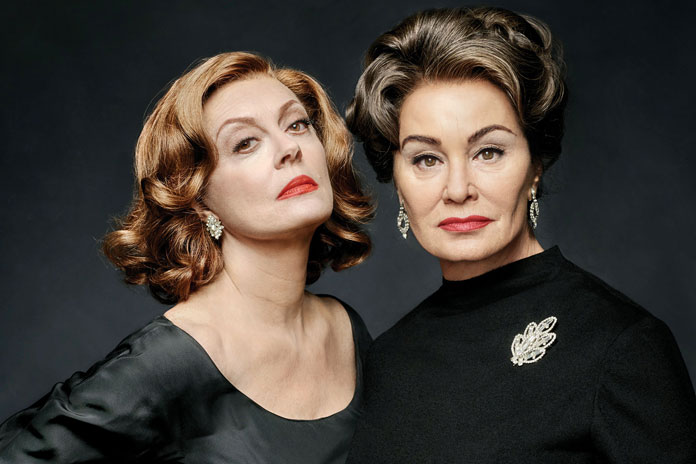 Ah! Period Makeup! What makeup artist doesn't love the 40's era?!! I seriously love the glam of  Bette and Joan! The characters are played by two of the best actresses in the industry, Susan Sarandon and Jessica Lange.
I bow to Jessica, talk about goals after 60! Holy crap, that woman oozes sexuality in anything she plays and at any age! Seeing her first in the original King Kong when I was a little girl, she was IT for me and has been ever since. YES, to all her incomparable characters in American Horror Story!! Bring her back already, Ryan!
And let's NOT forget the tough broad "Louise" played by Susan Sarandon that got the world to go nuts over two women as a team of outlaws. Such badasses!!
Ahem… sorry… back to Bette and Joan's makeup….
The period makeup on these diva icons are literally to die for.
To nail these looks, you want to thicken and arch your brows by coloring them in with a darker  pencil (slightly darker than your natural brow color), create a thin black cat eye with a black gel liner, pop any shade of red onto your lips and leave the skin matte.
Big Little Lies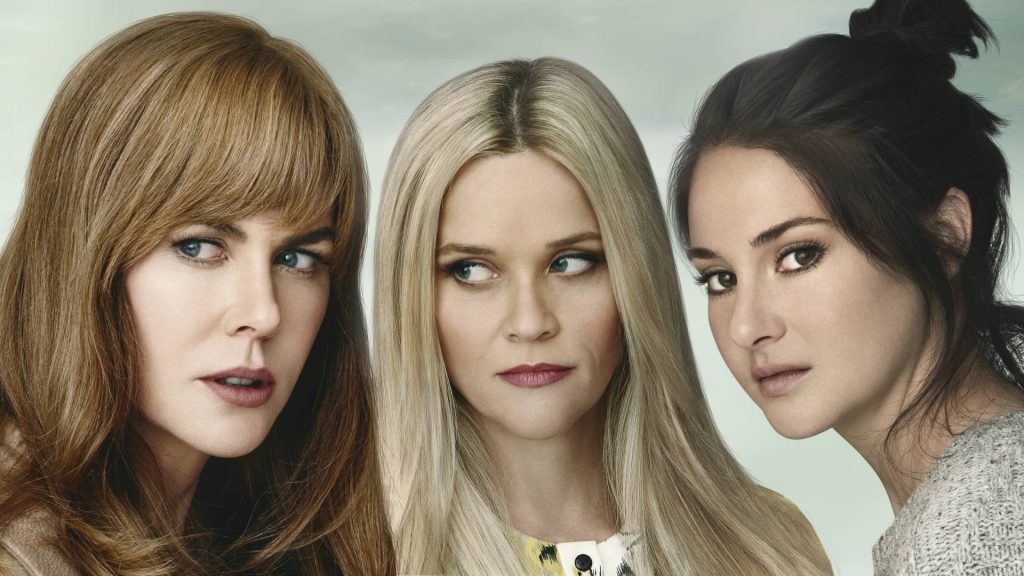 Big Little Lies … Hooked, From. The. Start.
Talk about identifying with these moms with small tots in California! This show nailed the accuracy of what goes down with mommies around LA/Beverly Hills. Even the everyday petty drama of family life. Although it's portrayed in the sleepy town of Monterey, California… I'm sure all moms can identify in one form or another.
The makeup looks are kept fresh and polished with the perfect touch of glam.
In a previous blog, I covered 10 minute morning makeup routines for moms. Looks from Big Little Lies consist of flawless skin, neutral blends, smokey eyes, and berry brown lips. A perfect makeup combination for your everyday style this fall!
To get flawless skin like the cast of Big Little Lies, apply your favorite cream foundation all over your face. Skip contouring for a more natural looking finish. Next, you'll want to apply neutral eye shadow all over your lids and smudge a brown liner to your lower lashline. This will create a gorgeous smokey effect, while keeping your look fresh!
Add lashes to your look, but keep them simple like Bosso Makeup's Upper Lashes 213.
Complete this look with a brown/berry colored lipstick like Naked Boss or Foxy Boss.
---
Stay tuned for my favorite makeup looks from the Emmy Awards' red carpet!
Feeling inspired and ready to binge-watch these shows? Tag me on Instagram @bossomakeupbeverlyhills with makeup looks from your favorite shows.
Please follow and like us: