Valentine's Day is almost here! In addition to dressing extra pretty, this lovey-dovey day offers the perfect opportunity to play around with different Valentine's Day makeup ideas. 
I'm diving into four of my favorites, and sharing all the expert tips you need to slay Valentine's Day this year!
BERRY BEAUTIFUL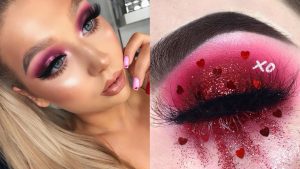 To create this ultra-enchanting look, grab my Berry Vegan Eyeshadow Palette. It's packed with six super feminine shades that go on buttery smooth! 
Use the three light shades for a sweet natural daytime look or quickly pump it up to a power smokehouse by adding the eggplant and browns. Voilla! Fem and strong!
Ready to rock those luscious lashes? Look no further than my #40 Lash Set. These hand-tied lashes are guaranteed to make a statement.
Looking to kick things up a notch for a Valentine's Day party? You can find the sparkly red heart-shaped embellishments (pictured) at any local craft store like Michaels or Joanne's. Choosing white in my Paint Boss Palette and a thin liner brush makes it easy to add the "xo" – or whatever your heart desires! 
STAY KISSABLE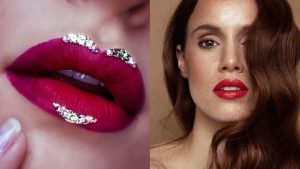 Whether you're looking to glisten up your lips or stick to a classic look, my Wicked Boss Liquid Lipstick will have your date saying ooh-la-la! This shade is a Bosso best seller and one of my all time faves for any red hot occasion. 
The rich texture and deep pigment are creamy beyond belief – there's no way that your lover will be able to resist! And talk about long wearing! It's guaranteed to last well into the evening and even through the most passionate kiss. Trust me – I can tell you first-hand that you'll be left with a beautiful ruby red lip stain that looks so natural and gorgeous. Keep that in mind as a lip stain tip for daytime!
Bosso Pro Tip: Apply lip gloss to the center of your pout for a fuller (and extra kissable!) appearance.
JUST WING IT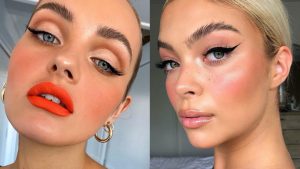 Winged liner is like that reliable friend who cheers you up during a pre-Valentine's Day breakup. You can always count on it to make you feel stunning! 
My Double Sided Eyeliner Pen is a must-have for achieving this look. One end is thin-tipped with smooth nylon synthetic bristles so you're able to create a perfectly thin stretched out wing without looking contrived. Think Audrey Hepburn and how effortless-looking her wings were.  
On the other side, the design is made with felt material and wider to achieve a thicker, alluring, and dramatic cat eye with pointed precision. Hello Brigitte Bardot! Prrrrrrr….
As for the beautiful bushy brows, use a brow gel like my Brow Stay. Comb your brows into the direction and shape you desire (up is epic!!) and they're guaranteed to stay put from Valentine's Day brunch to dinner with bae. 
The unique orange lips are sooo sexy and classy. Sadly, Bosso Addiction lipstick was a limited edition set and they flew off the shelves. But….I have a good news! If you mix the red and yellow in my Paint Boss Palette, you can create your own shade of orange. Also, just by mixing in a smidgen of white, you'll get more of a peachier vibe if you're not as bold. This super versatile color cream palette will give you any lip color under the sun! Happy experimenting! 
GO SOFT OR SULTRY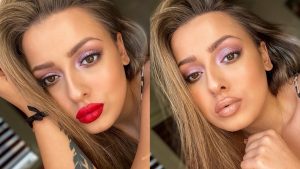 This soft look can change drastically just by switching up your lip looks! Use the Naked Boss Liquid Matte Lipstick for a casual Valentine's Day lunch with friends and then effortlessly pump it  up with Bitchy Boss for a hot steamy night with your hubby. Both liquid lipsticks are loaded with vitamin C and E for the most irresistible pout. Now what's not to like about that?!
Want to take your eyeshadow to new heights? You'll go head over heels for my new liquid shimmer sticks. Talk about attention-grabbing while speed dating! No doubt you'll be the most talked about. 
I know you'll be wearing one of these Valentine's Day makeup looks above and feeling all extra on February 14th, so you sexy bitches better tag @bossomakeupbeverlyhills in your glam shots because we're dying to see!