Happy Mother's Day to all of the gorgeous Moms out there!
As a mother, I know that chaotic schedules can make it challenging to give our wholehearted attention to our beauty routines.
Luckily, I have a few tricks up my sleeve! Displayed by yours truly and some of our favorite celebs, these Mom-friendly makeup moves will help you look perfectly put-together with minimal effort.
PUCKER UP WITH POWERFUL LIPSTICK.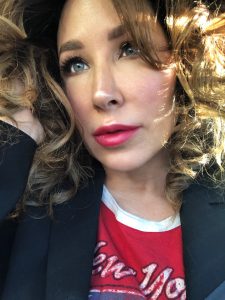 Kimberley Bosso
Scrambling around between carpools, baseball practice, and piano lessons? You barely have enough time to pause and take a breather, let alone complete a full makeup look.
In these cases, lipstick can serve as a super simple beauty time-saver.
Choose a bold shade to add a quick pop of color to an otherwise low-key look.
For pretty in pink vibes, go for Bosso's Ultra Alluring Lipstick in My Love. For deeper drama, Truffle is your best bet.
Even better? These lipsticks are also packed with Kalpariane ® (Brown Algae), which stimulates and protects the collagen in your skin. (Yes, please!)
ROCK THAT POST-BABY GLOW.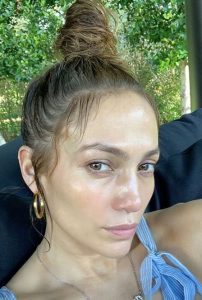 Jennifer Lopez 
Are you a new Mom? First of all, congrats! Second, get ready for the ride of your life!
As exciting and rewarding as it is to bring a little one into the world, that mom life can do quite a number on your skin.
For instance, some women find that their post-baby skin can get more oily than usual. But I've got good news for you – glossy skin is totally in!  
So rather than getting self-conscious, start rocking that dewy finish! With a good enhancer liquid, you'll look a lot less sleep-deprived and a lot more luminous.  Simply mix it in with your moisturizer for a "just left yoga" glow!
And speaking of moisturizers….  make to pick one that all of us pro makeup artists carry with us!
I strongly recommend the Embryolisse 24-Hour Miracle Cream. Along with being just the right amount of creamy, this miracle worker also is a fantastic primer and makeup remover. Gotta love a triple threat!
This one is excellent for all skin types. Plus, it's especially useful for mamas who suffer from dry skin due to breastfeeding, lack of sleep, and not guzzling enough H2O throughout the day.
LESS EFFORT, MORE DEFINITION.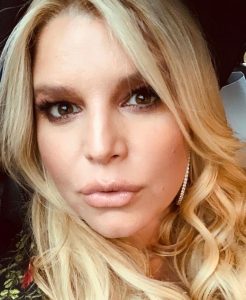 Jessica Simpson
Pregnancy and aging can cause us to lose definition, but all hope isn't lost. Plus, there's no lengthy makeover required to combat these issues.
With the right products, you'll go from Stressed-Out Mom to Super Mom in no time!
For starters, defined brows can help allow you to get away with wearing no additional makeup. Focus on filling in the bottom inner corner of the eyebrow with a brow pencil, as this area gets patchy as we age. Then fill in the top of the brow for a flawless arch and lift. (Yes, it's really that easy!)
A swipe of bold blush can also do wonders. Simply apply to the apples of your cheeks, and then sweep up into your hairline.
To define my eyes on a tight timeline, I also love to apply a highlighter stick inside my water line. (This is great for brightening up your pre-coffee look!)
GO NATURAL.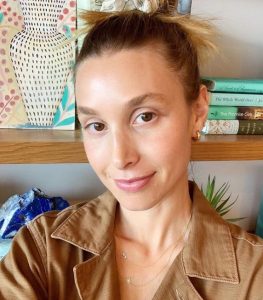 Whitney Port
Not that Miss Port has to worry any time soon, but mature skin has more texture than younger skin. With that said, it's crucial to adjust your makeup routine accordingly.
When aiming to conceal wrinkles for instance, a too-heavy foundation will settle into lines and actually draw more attention to them.
Therefore, it's extra important for Moms to focus on lightweight foundations that melt into skin in a natural way.
Plus, don't forget about the power of concealer! My go-to trick is applying a medium shade first to cancel out darkness, and then following with a lighter shade to brighten. This is a game-changer for hiding those pesky under-eye shadows in a subtle way.
GET GLAM – WITHOUT TRYING TOO HARD.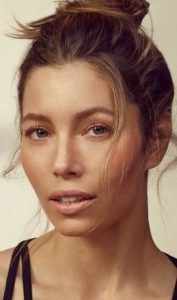 Jessica Biel 
For eye-catching glamour with effortless appeal, highlighter is your new best friend!
I suggest applying an illuminating cream highlighter to the high points of your cheekbones to achieve that lit-from-within shimmer.
Plus, lounging on the beach can be a rare luxury for us busy Moms. Luckily, you can fake that sun-kissed flair with my Figi Bronzer. Bronzer is great for revamping a dull complexion, and giving tired skin a much-needed dazzle!
So Moms, what's your go-to makeup move? I'd love to check out your beauty hacks! Snap a picture and tag me on Instagram @bossomakeupbeverlyhills.