Blemishes, pigmentation, redness, and dark circles all wreak havoc on every woman's daily beauty routine. Well take a breath…. we've got a best selling concealer that will turn your life around….Bosso Beverly Hills Full Cover Concealer.
Why is this concealer so special?
Pro makeup artist Kimberley Bosso wanted to create a professional concealer unlike anything else out there. One that is water resistant, provides full coverage and without cakey build-up which only looks aging! In comes Bosso Beverly Hills Full Coverage Concealer which has been featured in Women's Health Magazine, GloMSN, NBC and Fox News as the best selling concealer around. Launched in 2014, this incredible concealer quickly took off among industry professionals and the everyday consumer. It truly is in a league of it's own.
This unique formula erases imperfections in seconds and has other benefits that will make your skin healthier. With carefully selected ingredients, this magical potion brightens up your skin and helps you in the fight with wrinkles and other signs of aging with the powerful antioxidant Synovea HR protecting damaged skin.
Bosso Full Cover Concealer is an easy blending, highly concentrated concealer and is so buildable that even placing it over HD fishing powder it will still look natural! Build it as many times as needed without settling into fines lines! No wonder it's a best selling concealer!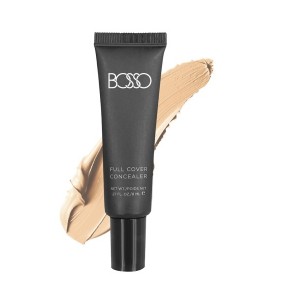 Who can use Bosso Full Cover Concealer?
Our concealer is for all skin tones and types, from Caucasian to African American. With its high quality, paraben-free, and anti-aging ingredients, this concealer is suitable for customers with sensitive, dry, oily, and aging skin. Pigmentation and dark circles will be concealed, while keeping your skin nourished and protected. Bosso Full Cover Concealer is clinically and allergy tested, so irritation is eradicated. We also believe that no animals should be harmed in the making  of cosmetics, so just like all Bosso products created, this concealer is 100% cruelty free!
Kimberley's Tips:
If you would like to conceal a blemish, the smallest amount is needed. Blend in with your finger with a patting motion until it dissolves and disappears into the skin. Repeat if needed until it vanishes. Patting is the best technique so makeup is not sitting "on" your skin but coming from within to produce a natural finish. A professional concealer brush is also a great option for using the concealer as a highlight contour in the t-zone over your foundation.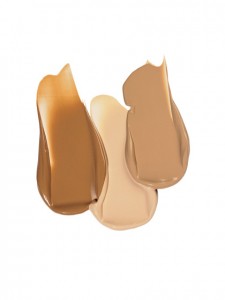 Please follow and like us: