Paris Fashion week is swiftly approaching and in a just a couple weeks, Celebrity Makeup Artist Kimberley Bosso of Bosso Makeup Beverly Hills and her team will be there working their magic for this years glitzy and innovative up-and-coming fashion designers! Fashion week is not only for fashion inspiration, but it's also a great source for all the beauty enthusiasts and makeup lovers to get their creative juices flowing. To get prepped for this season's Paris Fashion Week, we took a glimpse at the 2016 Spring/Summer makeup trends, straight from the runways!
Glittery Neons
Vivid orange, electric blue and glittery purple…the 70's disco vibes are definitely back! To compliment the gorgeous and vibrant eye shades, the makeup artists kept the rest of the makeup very simplistic and minimal. They created glowing makeup with vanilla highlighter, peach blush, and clear lip balm, while leaving the eyes au naturel.
Why do we love this look?
Although we love the sweet natural look, a pop of color always adds more fun to your appearance.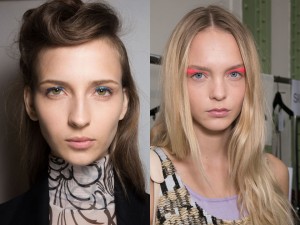 Glowing Nude
If you are a fan of the no-makeup look, you will adore the Alexander Mcqueen and Emanuel Ungaro models' makeup! While the models' brows were perfectly shaped, they were kept natural and framed their faces beautifully; the eyes and lips have warm honeyed undertones that pull the entire look together and create and effortlessly feminine look.
Why do we love this look?
This look emphasizes everyone's true features and characteristics without any heavy contouring or lip overdrawing, but it still absolutely stunning and elegant!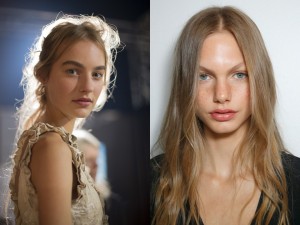 Electric Ombre
To make the regular ombre lips more outstanding and truly pop, fashion brands Miu Miu and Shiatzy Chen decided to play with daring colors such as metallic blue, burgundy, and black. Instead of the usual, blurred ombre effect, we can see harsh contrast between the different colors, and to keep the focus on the lips, the models wore minimal eye makeup with matte, nude shades.
Why do we love this look?
Ombre lips perfectly match the fashion brands youthful and brave design aesthetics, and they truly lit up the stage!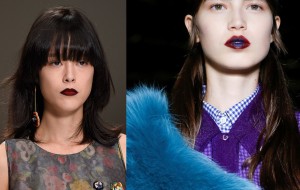 Classic Red
There aren't any other makeup trends that match the feminine, vintage inspired designs of Nina Ricci as the all-time favorite red lips. From pale and coral red to vibrant burgundy and matte wine, there are endless options to pull off a red-lip look. While the models at Nina Ricci rocked the runway with metallic and glossy red lips, Céline decided to go for an absolutely matte lipstick and geometric eyeliner.
Why do we love this look?
It's hard to find such a timeless makeup look that instantly dresses up any outfit!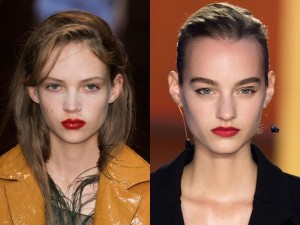 Dramatic Falsies
Louis Vuitton and Martin Grant gave a whole new meaning to the false lashes with their models rocking breathtaking, painted false lashes that created the ultimate doll-illusion. Although both the upper and lower lashes were painted as well, the falsies stole the show and gave the models a very futuristic and minimalist feel that matched the clothes they were wearing perfectly.
Why do we love this look?
These false lash looks are modern, edgy, and unique without stealing the attention from the actual designs!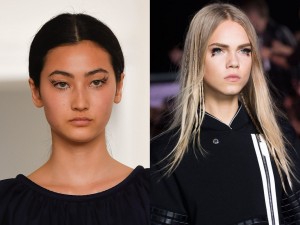 What can we expect from this Paris Fashion Week?
We can't wait to see the surprising, creative, and gorgeous pret-a-porter and haute couture looks Kimberley and her team are about to create in Paris during Fashion Week March 2-8, 2016.
To keep up with Kimberley and her team, follow her on Instagram at BossoMakeupBeverlyHills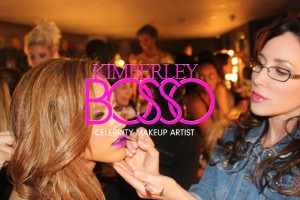 Please follow and like us: