A colorful bright Indian wedding look is every makeup lover's dream come true: the rich shades mixed together with dramatic eyeliner and glossy vibrant lips look absolutely stunning, but it can be quite tricky to create and pull off such a bold makeup look. To help Indian brides out, (or anyone looking for something exciting and new), we gathered the top 4 secrets of a long lasting, Indian bridal makeup!
Flawless Canvas
The Trick: Smooth, healthy, and glowing skin is one of the key elements of a beautiful bridal makeup. Because everything else is going to be very dramatic and colorful, keep the face makeup very minimal with a medium coverage foundation that matches the skin tone perfectly. Darker skin can be very challenging when it comes to finding the perfect shade, so to avoid looking grey and ashy, spend time with searching for the right shade or mix together different shades to create your custom foundation. When it comes to blush and bronzer, use a hint of matte bronzer and a brick colored blush, and choose a yellow undertone, champagne highlighter like Jaclyn Hills' Champagne Pop.
Don't…
…skip your regular cleansing and hydrating routine before applying your foundation! Gently cleanse your face and moisturize it with your go-to daily face cream. If you are looking for some extra care and hydration and are on the drier skin side, mix a small drop of argon oil to your foundation.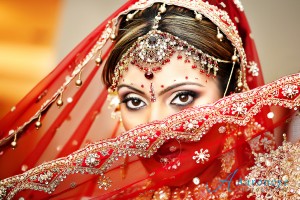 Full Brows
The Trick: After plucking your eyebrows, don't forget to shape and fill them in. Eyebrows "frame your face", So instead of over tweezing and creating a super thin line, try to keep their natural shape and emphasize them – for inspiration, take a look at Emilia Clarke's or Cara Delevigne's gorgeous, trendsetter eyebrows! Thick and full eyebrows will make your whole eye makeup look more defined and gorgeous.
Don't…
…overdraw them either. Try to find the balance and shape your eyebrows in a natural way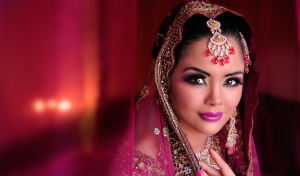 Dramatic Eyes
The Trick: Indian wedding makeup are all about vivid colors and dramatic eye makeup, so it's the perfect opportunity to create an incredible look with amazing shades such as royal blue, emerald green, gold, pink, or red. While it can be a little challenging to pull off red eyeshadow for girls with pale skin, tan to darker complexions look stunning with color combos such as gold and red or pink and bronze. Because of the different wedding ceremonies, switching up your makeup and playing with various colors is a great idea…not only you will be able to show off all the gorgeous eyeshadow colors you've fallen in love with, but the different shades will also spice up your wedding look!
Don't…
…forget the eyeliner and the natural-looking falsies! To complete your look, make sure to create black winged eyeliner and apply false lashes (as natural lashes can easily disappear with such a bold eye makeup look). Instead of totally dramatic lashes, try to find the faux ones that only give a bit of extra volume without looking too much.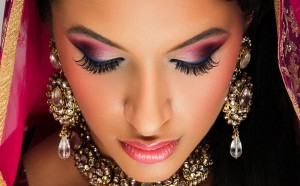 Finishing Touches
The Trick: Create glossy, pink, or red lips with a long lasting liquid lipstick to balance and finish off your look, and set the whole face with a powder and setting spray, but be careful with the amount of HD powder… you don't want to end up with the Angelina Jolie "white spots everywhere" face. (this happens when the flash from the camera reflects on the HD powder) so blend well and use minimal amounts. What I love to do before I set with HD powder is airbrush one final spray of foundation on the skin to lock everything in and to give it a dewy glow, wait about 5 min's then set with powder.
Don't…
… forget your touchup kit (which Celeb makeup artist Kimberley Bosso supplies for her clients). With Kimberley's famous airbrush technique and formula, no touchups are required except for lipstick/gloss (after you kiss your man/eat cake, etc..) and maybe some t-zone HD powder for that rare emergency t-zone shine.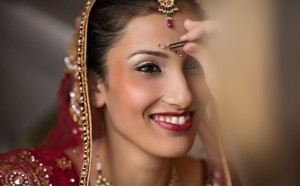 Please follow and like us: