You gals asked for it, so here it is – part two of my easy and feminine DIY halloween makeup looks! In case you missed it, I shared eight gorgeous Halloween looks in a previous blog post that was a total hit.
As you know, this year's forecast is beauty over spooky! These looks will help you look like a truly glam gang when you and your ghouls let your makeup take center stage.
Get ready to seduce that cutie you've been eyeing for months, 'cause these looks are going to catch and keep his attention.
halloween makeup looks
Here are six more easy and feminine DIY Halloween makeup looks:
Glam Vamp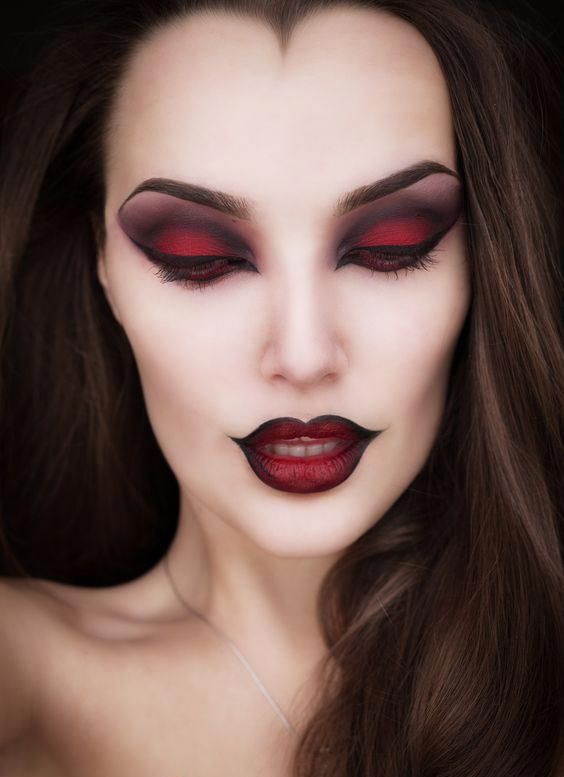 Your vampire makeup this halloween doesn't have to send chills down your lover's spine. Get his blood pumping by radiating sex appeal this Halloween.
Be seductive with this simple and glam vampire makeup look. Think blood reds, blacks, smokey blends, and pale skin. Make your cheekbones POP with a bold and angular contour. Line your lips with a black lip pencil and create a bold maroon ombre.
Get ready 'cause your crush will fall in love at first bite with this makeup look.
Beetlejuice Beauty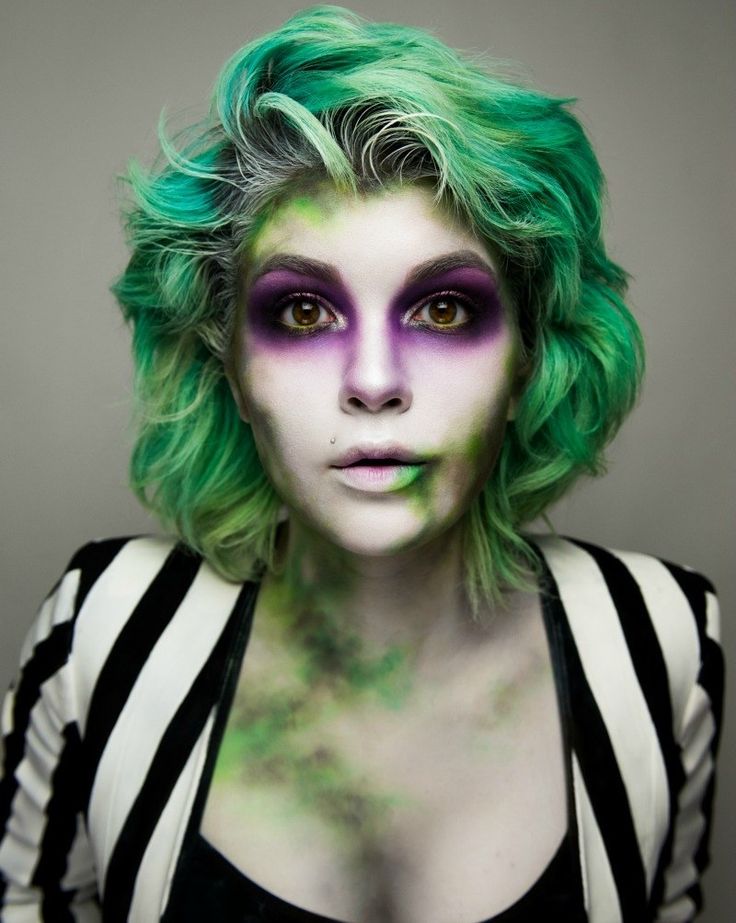 Want to be a sexy zombie, but you're not sure how? I have you covered. Betelgeuse is the deathly comedic main character from the 1988 cult classic, Beetlejuice (directed by Tim Burton!). But who says you can't do a swift genderswap for this costume and give the character a beauty makeover?!
All you need is to do is make your face, neck, and chest skin deathly pale with some white cake makeup. Get liberal with shades of purple eyeshadow (like deep violet mixed with a lighter purple) messily blended around your eyes. Hit up your local party store for some green temporary hair dye.
Bosso Pro Tip: Apply white cake makeup to your lips, and then add a touch of pale pink lipstick to the center and inner parts of your lips to really look deathly.
Feeling bold? Add some green and purple bruising to give you a truly zombified appearance.
Are you ready to make your man summon your sexy self by saying, "Beetlejuice, Beetlejuice, Beetlejuice?"
Unicorn Babe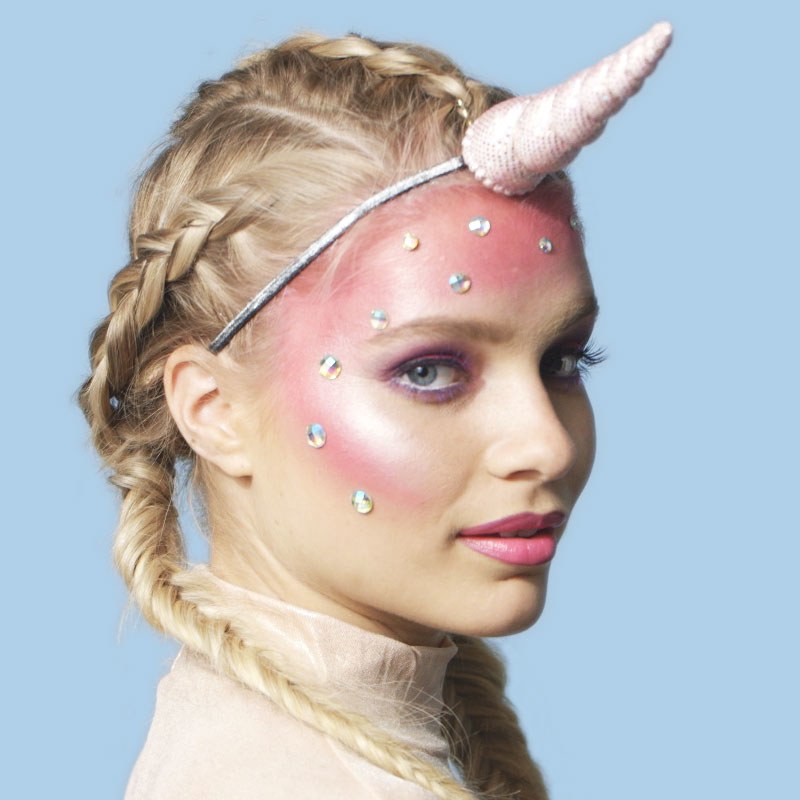 Did you know that unicorn makeup is ranked as the 9th most searched Halloween tutorial this year? For real, and it shows no signs of slowing down!
This simple unicorn makeup finds a great balance between cute and sexy, so you can play up your outfit by playing down your makeup. Get whimsical with shades of pale pink trailing from your cheek bones to the crown of your face.
Bosso Pro Tip: Make sure you apply the pale pink shades with a fluffy brush, so it doesn't cake. Remember not to blend too much. You want people to see your look from across the room!
Make your cheeks pop by lining the inside of your contour with a white shimmering highlighter, like Lit Like A Boss in Snowfall. FYI – the more highlighter, the better. Get ethereal, you magical being! Layer on some pink lipstick (like Bisous or My Love).
Complete your look by adding some crystals to your face, and boom! You are ready to go, you magestic unicorn. 🦄
Doe-Eyed Darling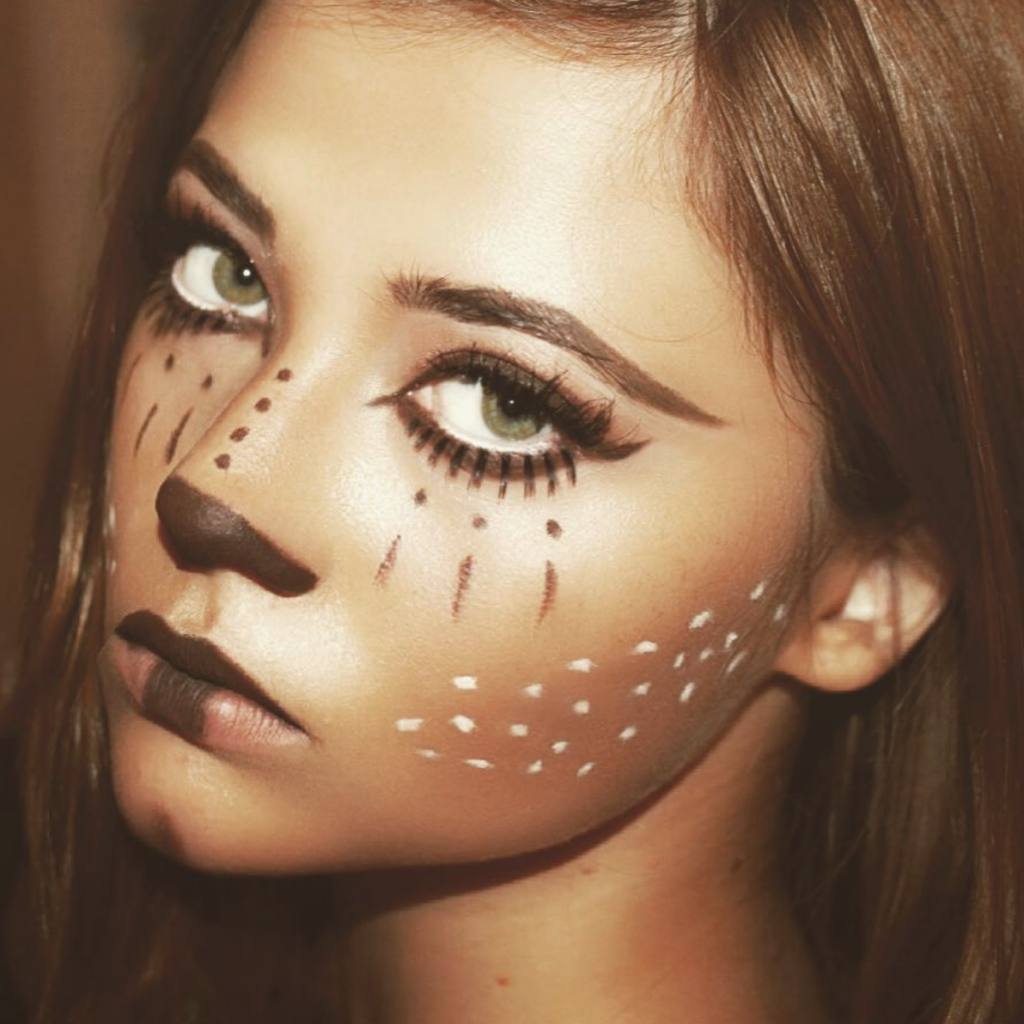 Each year a regular client of mine flies in to attend her favorite annual ball and this particular year she requested a forest nymph to be done for her attendance at  LA's Labyrinth Masquerade Ball. Wish she didn't leave her horns in her hotel room. It would have topped off the look for this pic!
She went to the ball as a doe-eyed darling, and it was a hit!
For this easy look, you must create a glowing bronze tone as a base foundation. I did a darkened contour with white dots layered over top. Next, I drew a few shapes on her face, lips and nose, using chocolate gel liner with a fine tip liner brush. I use the same brush to extend liner in both directions and created a shimmery brown smokey eye with big false upper lashes. For her bottom lashes I applied #105 strips and for the water line I used Bossy Brow stick in Beige.
Cute Clown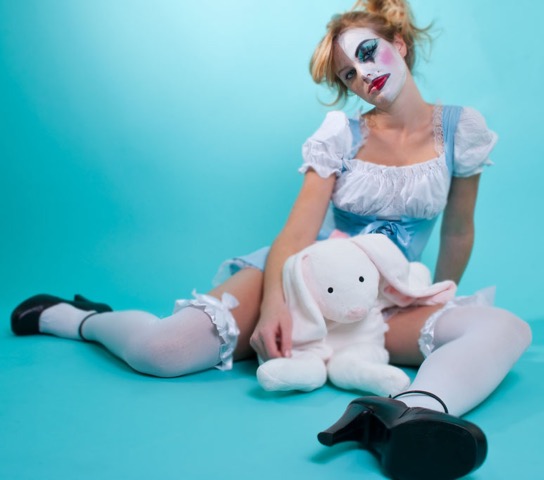 With the recent release of the re-imagining of It and AHS Cult this season, creepy clowns with red balloons are set to take over Halloween. Have you ever imagined hearing the words "cute" and "clown" in the same sentence?
You have now! Stand out from the crowd, with this cute as heck  and simple clown makeup look.
Recreate this look with white cake makeup and vibrant shades from Makeup Forever's Flash Palette. Use waterproof and smudge proof black liquid liner to draw the lines up and down your face to give your makeup that clown-like feel.
Masked Maiden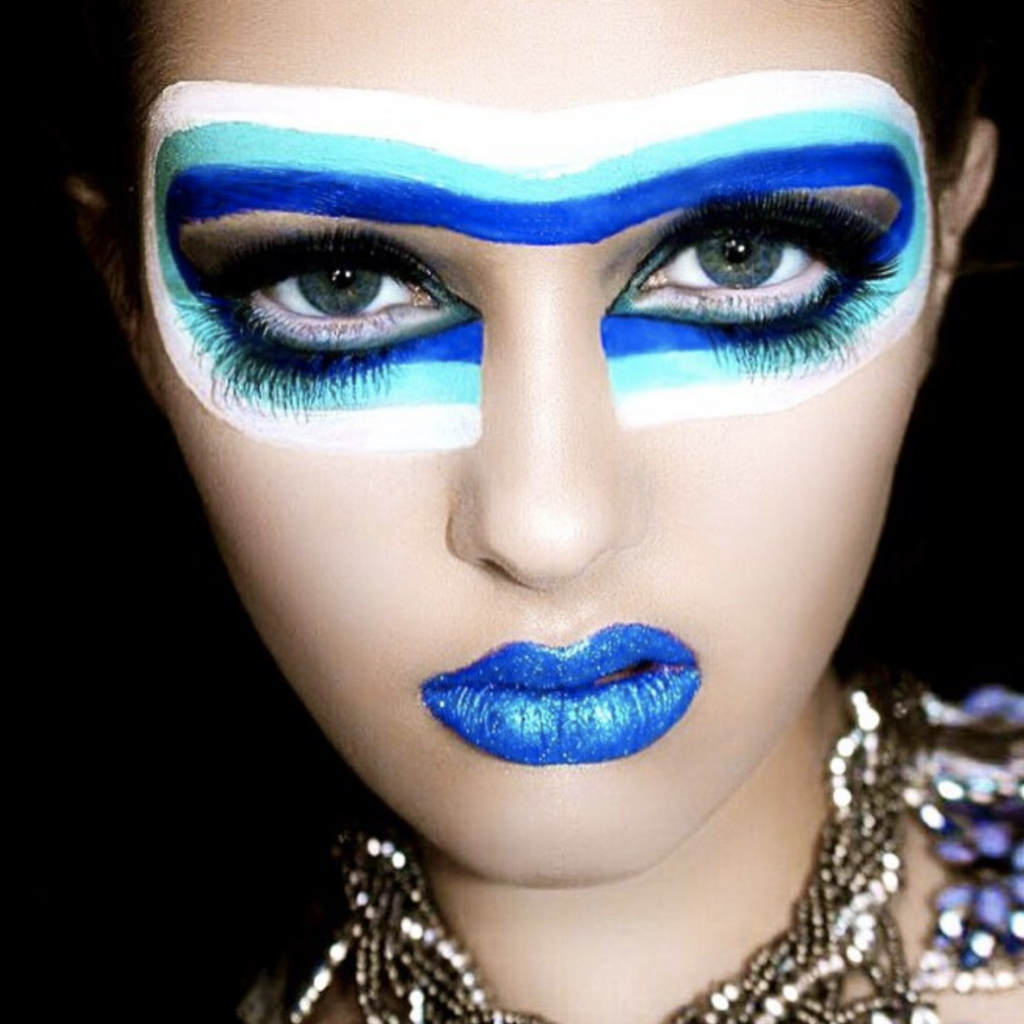 Buying a masquerade mask for your night out is so last year. Now, it's all about getting creative with your masquerade masks. How do you do this? By drawing and creating your own mask with makeup and paints!
I honestly love working with shades of blue. Make the colors and your eyes pop with huge falsies on your upper and lower lashes.
This is a look we created during Bosso Makeup School's 6 Day Intensive with MUFE flash palette and Lit Cosmetics glitter. The best part about creating your own mask is that you'll be able to take whatever creative liberty your heart desires. So, have fun with it!
I encourage all of my students to have fun doing makeup and to follow their creative passions. Makeup is art, remember that!
In case you missed it in Part 1 – you could always get your burlesque on this Halloween! When I was on Fox News, I created a sexy a la Christina Aguilara Halloween Burlesque look. Check it out below:
---
Halloween is coming up quick, so make sure you figure out what you're going to be, so you can snag the proper products to nail your look.
Don't have the time to do your own makeup? You can have any Halloween makeup look your heart desires done professionally at the top makeup school in Los Angeles. Make sure you book your appointment now 'cause appointments fill up fast!
Remember to be safe, have fun, and get spooky this Halloween! Don't forget to tag me in your pictures on Instagram @bossomakeupbeverlyhills, so I can see what makeup look you've chosen to slay.
Please follow and like us: