Halloween is literally one of the best times of the year to really showcase your creative side in the beauty world and just have fun. This year, it's on trend to skip the entire costume and focus on your makeup looks.
Yep, Halloween in 2017 is all about beauty looks over spooky looks, and I'm all for it!
If you want to show up to that Halloween party where your crush is bound to be at, you'll want to be rocking a truly impressive and feminine costume! Try your hand at one of these beautiful and easy Halloween looks, if you dare…. Muahahaha.
Throughout this blog, I recommend using Lit Cosmetics if any look requires glitter.
Are you ready to let your makeup take center stage this year? Here are 8 easy DIY Halloween makeup looks that are bound to steal the attention of everyone in the room.
Elven Princess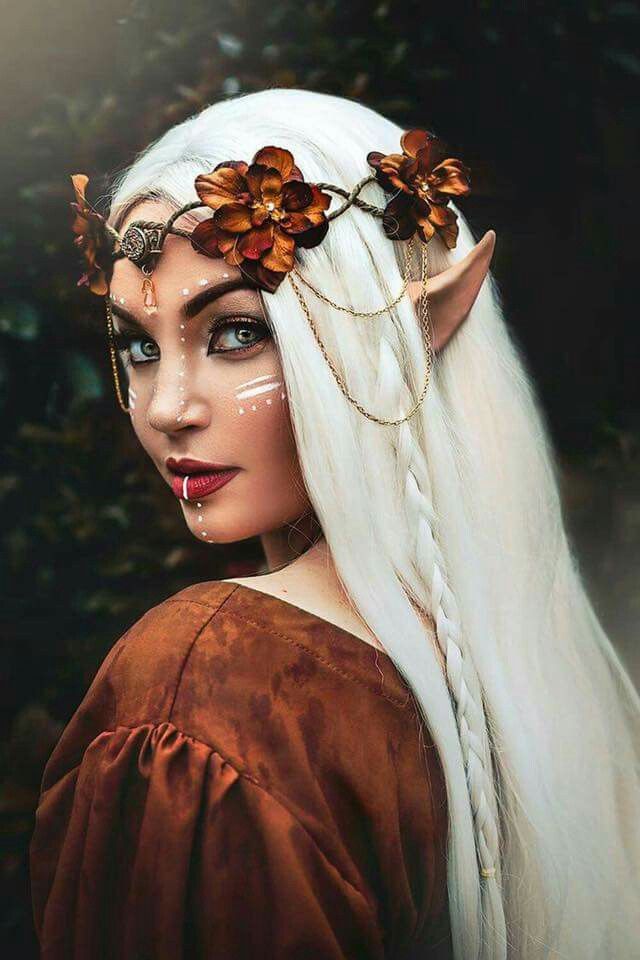 This Elven Princess makeup is so simple and cute. You'll look like a hotter more feminine version of Legolas from Lord of The Rings (if that's even possible, 'cause Orlando Bloom is delicious!).
All you need to pull this look off are strong brows, a neutral toned smokey eye, black gel liner, white paint, and luscious red berry stained lips. And if you want to throw on some cute pointed prosthetic ears, Naimie's is THE beauty supply store where all makeup pros go to stock up on any and all kinds of makeup supplies in Los Angeles.
Evil Queen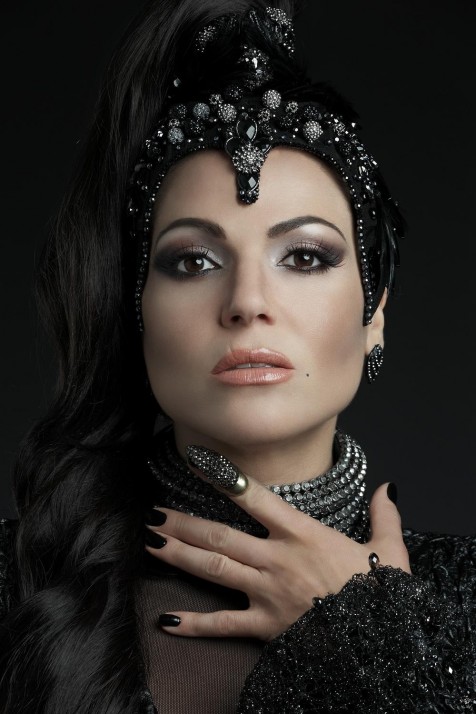 I'm so happy that Evil Queen makeup is no longer focused on making these women look unattractive. As the hit TV show Once Upon A Time portrayed, evil queens can be beautiful and powerful all at once… Take Regina Mills, the Evil Step Mother from Snow White (played by Lana Parilla), for example, she's a badass, gorgeous warrior queen with killer makeup in every episode. Who WOULDN'T want to dress up as her for Halloween?
Get this sexy look by creating a stellar contour, smokey eye, bold lashes and skin-tone glossy lips. With this makeup look, you'll have all the guys wanting to taste your poison apple!
80s Party Girl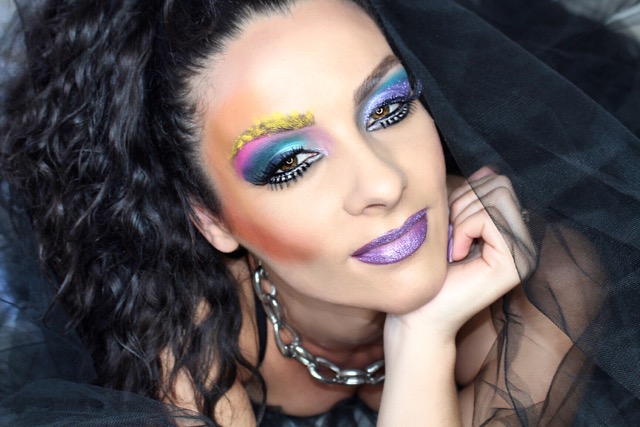 Grab your leg warmers, scrunchies, and bangles 'cause we're taking it old school Cyndi Lauper style with this makeup look I did on my friend Viktoria. Are you dreaming of looking like a fun and flirty 80s party girl? Think bright yellows, hot pinks, lime greens, and electric blues.
Let's get funky by combining a mixture of bright af colors on your eyes and make sure you have big hair! The best palette to use with a wide variety of colors and great pigmentation would be Nyx Brights Ultimate Shadow Palette.
Bosso Pro Tip: Use an eye primer before you apply your shadows, so your makeup POPS.
Also – want to know the best part about big, messy hair? Even if it gets crazy while you're dancing the night away with the guy your BFF set you up with, you'll look more and more in costume. #Winning!
Dark Faerie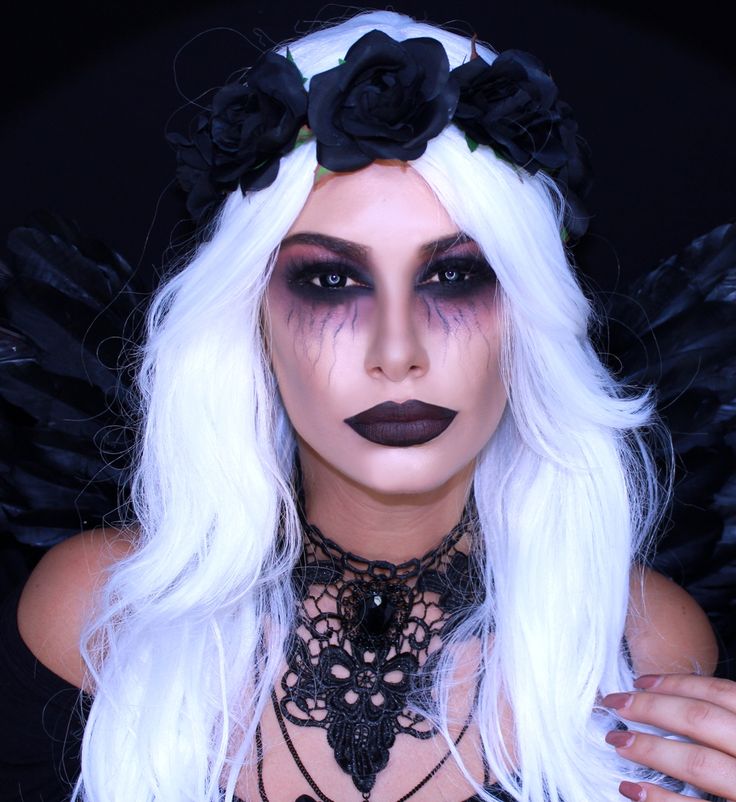 Bold. Mystical. Smoldering.
Seduce the man of your dreams with this Dark Faerie makeup look. The stark dark purple and black eye makeup with deep shaded lips paired with eerie veining dripping from your eyes is bound to steal the attention of everyone in the room.
Play your makeup up, and keep your outfit simple with a little black dress and black glittering faerie wings.
Burlesque Beauty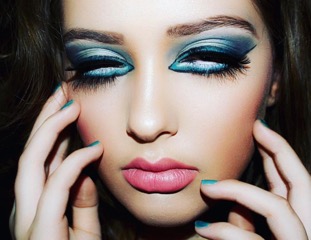 Hey sista, go sista, soul sista, flow sista. Burlesque makeup is iconic, especially Christina Aguilera's beauty makeup in the movie Burlesque.
Get your Lady Marmalade on this Halloween by using face jewels, big and bold lashes (like Upper Lashes #40), and Wicked Boss liquid lipstick.
If you nail this look, you'll be singing, "Voulez vous coucher avec moi ce soir?" all night long.
Ice Queen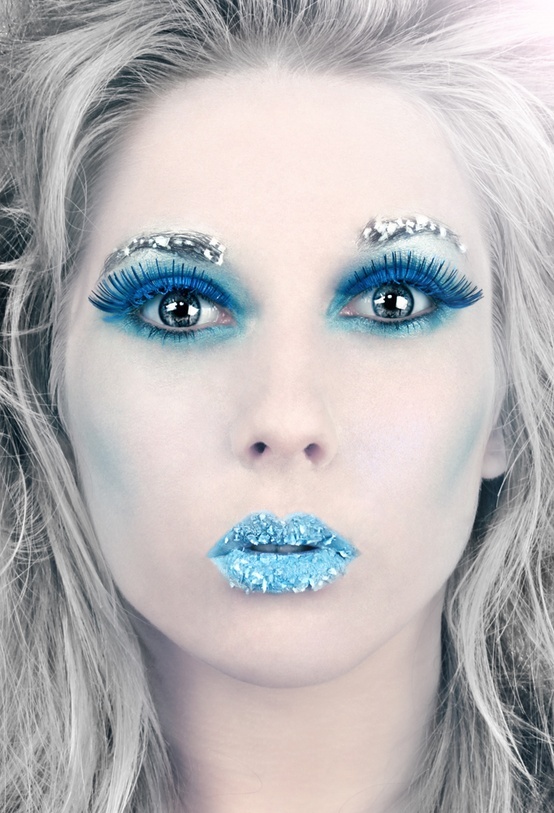 Can this Ice Queen look get any hotter? Become a frigid beauty queen with watered down white paint to create ice-cold pale skin, big lashes, silver glitter by Lit Cosmetics and shades of blue hues. These are all you need to rock this Ice Queen look.
Bosso Pro Tip: Urban Decay's blue eyeshadows are great and would work perfectly paired with Dior's Fusion Mono Eyeshadow in Reveuse for this look.
Click here for a full tutorial on how to DIY these glitter lips!
Bowie's Babe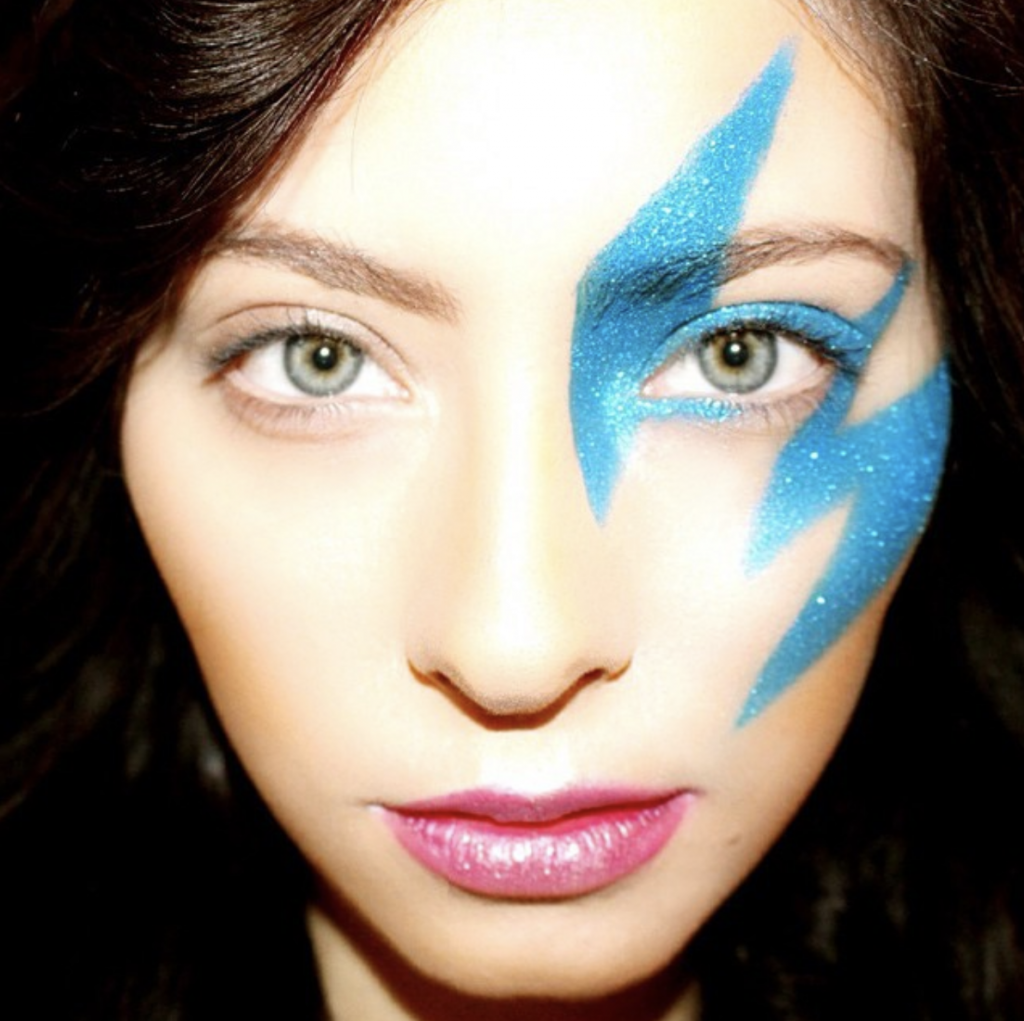 The passing of David Bowie weighed on all of us in January of 2016. But just because he isn't with us physically, doesn't mean we can't celebrate him spiritually every year! This glitter lightning bolt eye makeup is a look I did for New York Fashion Week in 2014, and it's a classic play on Bowie's iconic 1973 "Aladdin Sane" look.
Feel free to recreate the lightning bolt in any color of your choice or use Bowie's signature palette of orange and blue.
Either way you're bound to electrify those around you with such a simple and humble look.
Bosso Pro Tip: Make your eyes pop with bold lashes by Bosso Makeup like #40.
Monet Masterpiece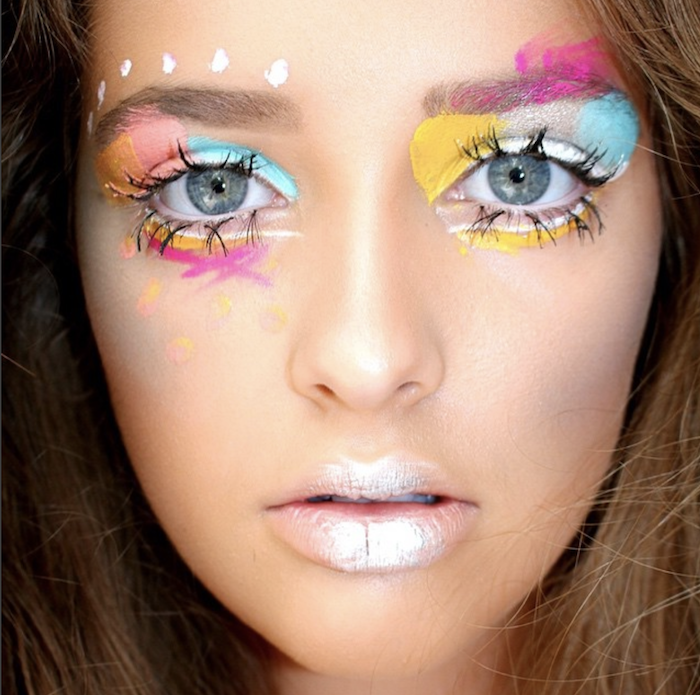 "Girl, you look like art," is a pick-up line you'll be hearing all night long with this Monet Masterpiece easy makeup look. All you have to do is get artsy this Halloween by using your eyes as a canvas! Think Claude Monet's The Artist's Garden At Giverny for inspo. Such a pretty painting!
Use bright colored face paints that are safe for use around your eyes, like products by Snazaroo and go to town.
For this look, I actually used Makeup Forever's Flash Palette on model Isabella. I LOVE the array of bright colors and what makes it worth the $99 bucks consumers dish out, is the fact that the pigments in these colors are so bright and by mixing them, you get way more than the 12 original colors.
Finish this look with frosty metallic lips! Mac's Metallic Lipstick in Devotional is a super similar shade or choose the silver in the MUFE flash palette!
For the lashes, opt for individual lashes and glue in a sparse fashion. Glop on loads of mascara and twist to clump them together. There ya go… spidery lashes!!
---
So which Halloween look are you going to choose? Which looks are your favorite? I want to know! Tag me in your pics on Instagram @bossomakeupbeverlyhills, so I can see what you're up to this Halloween.
Do you want to have your Halloween makeup done professionally at the top makeup school in Los Angeles? Book a private session! But hurry! Appointments book up fast…..