Enroll in the best makeup course in Hollywood. The only Makeup Class that offers a maximum of 4 students per course and where you'll receive a professional makeup certificate in 4 days or 6 days of intensive training, depending which class suits you. In both courses you'll also learn the ever popular airbrush makeup. In the heart of Beverly Hills, just steps away from Rodeo Drive, you'll receive meticulous makeup education from Celebrity Makeup Artist Kimberley Bosso, watch her innovative, glamorous, and classic makeup demonstrations, and have plenty of hands-on training under Kimberley's supervision. Also in this packed full of raw makeup technique course, is the business and marketing portion in which Kimberley gives extensive knowledge on how to catapult your career to the next level. Upon graduation, you'll get to assist on jobs with Kimberley on set, high profile weddings, red carpet events, editorial shoots, fashion weeks, and even with celebrities.
Students often refer to Kimberley as a continuing mentor and a friend. If you want the best makeup training in Los Angeles, and a makeup educator who truly cares , and takes pride in her students becoming successful, Bosso 4 day intensive (or 6 day intensive) is your one stop to learn all beauty makeup to lead you well on the road to success! Enroll now at kbosso.com and to read over class curriculum.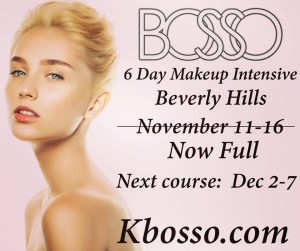 You can also visit Kimberely's Press to check out what Kimberley has been up to in the news.
And remember to Follow Bosso Makeup Beverly Hills on Instagram for the latest!