The holiday season is the perfect time of year to show off beautiful and extravagant makeup. To help you find the winner in the maze of unique makeup looks, we chose five gorgeous eyeliner trends that are guaranteed to make your eyes pop!
Dramatic Doll
Who could go wrong with thick-winged "doll eyed" eyeliner? This look is a great choice if you are wearing something simple with nude lips and a hint of red blush. Although Cara rocked this look at Anna Sui's fashion show with a special under eye dotted lining, you can replace the dots with false lower lashes or a traditional black or white eyeliner on your lower lash line to make this makeup look more wearable.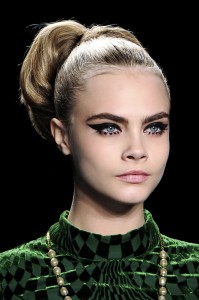 Festive Colors
If you chose a classic LBD for this year's Christmas party, twist things up with colored eyeliner that will definitely create a "wow" effect. Unlike all the other traditional eyeliners, this will instantly stand out from the crowd. But to make this look work, make sure to choose a color that goes perfect with your eye and skin tone. This bright yellow shade (seen at the Kenzo fashion show) works best with darker eyes and skin, and for all the paler skin-toned girls out there, we recommend deep blue or bronze!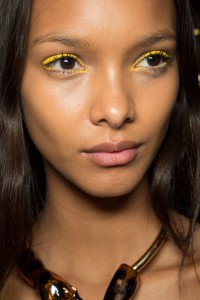 Graphic Lines
Although graphic eye makeup always looks great on the runway, it is pretty difficult to find it wearable day to day. But we've got you covered with a not too dramatic, yet still stylish, and a bit futuristic eye makeup look! Use matte champagne or brown colors for eyeshadows, and apply black eyeliner just at the end of the outer corner of your eyes. Finish off your look with a hint of highlighter in the inner corners to make your eyes look bigger.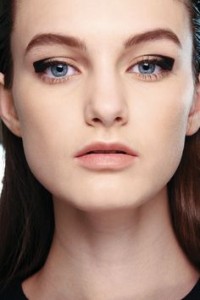 Double Winged Beauty
We've already mentioned this amazing look in our "The Most Unique Runway Makeup Looks" article, but it was so good that we just couldn't leave it out from our festive favorites list. If you would like to experiment a bit more but go less heavy on the eyes, choose a silver, pale pink, or white eyeliner to create this eyeliner style, and don't forget to add a few coats of mascara for volume and to finish off this fab eye!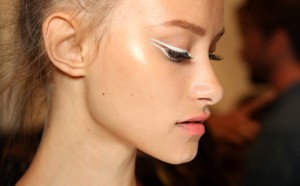 Glitter Angel
Glitter has become an essential to party makeup looks, but instead of the traditional glittery eye shadow, use it as eyeliner to create a statement like at the Chanel Haute Couture shows! You can either use glitter on your lids, or lower lash line to create a glamorous effect. And don't be afraid to get even bolder experimenting with more colors at the same time to create a glittery ombre look. Simply delicious!