Glitter… so many jokes about how it just never goes away. Kids love glitter. Teens love glitter. Hell, even adults love glitter! When I saw the movie Trolls with my little Brooklyn, I walked out on a sparkle high for months.
I was throwing glitter on everything from thank you cards to applying hair gel on models and dousing them with some  serious "glitterati."  And if I may confess, I even used it as a weapon for "payback" at Brooklyn's dad for being late… ….."Here's a little sparkle to match the interior of your car!" Bahahahaha!
Glitter just makes ya happy (maybe not him)! And us pro makeup artists slip it in wherever and whenever we can.
Thank the universe that glitter is finally getting its own grown-up moment.
This trend hit the runway and skyrocketed when Pat McGrath launched her glitter lip kits in 2016. These kits were worn by beauty mavens like Rihanna, Chrissy Teigen, and Bella Hadid.
In March of this year, McGrath decided to relaunch her three Lust 004 Lip Kits with this teaser: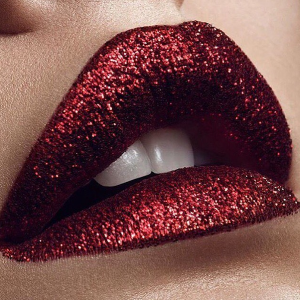 Gorgeous, right?! Unfortunately, her kits are completely sold out.
But that doesn't mean that you can't rock this sinful look this summer!
As one of the best celebrity makeup artists in LA, I'm going to show you how you can easily rock these metaphysical glitter lips without investing in any lip kits.
Ready to pucker with sparkle?
Here's how to DIY glitter lips:
You're going to need these three things ALL in the SAME COLOR or at the least VERY SIMILAR – lip liner, lipstick, and glitter. A trendy favorite is red, but you can literally use any color your heart desires.
Glitter lips are all about symmetry! So, before you choose which color glitter you're going to layer onto your lips, you're going to have to line them with the same color.
Step one: Use your lip liner, and create an imaginary line for each nostril to your lips. Where the line ends, you will want to draw two dots on both the upper and bottom lips.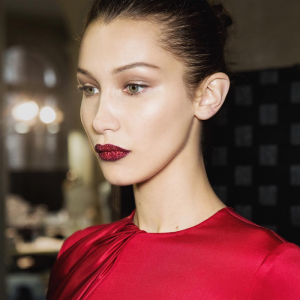 Step two: Next, you're going to connect the two top dots and create an M-shape. Then, connect the bottom two dots by making a straight and even line. Of course, you'll want to finish the lining process by outlining the remainder of your lips.
Step three: Okay, so you're all outlined. Now, use your lip liner and color in the entire lip.
Bosso Pro Tip: You're coloring in your entire lip with pencil because if your glitter lips fade throughout the night, your lip liner will still be there completing your look!
Step four: Once you're all colored in, you're going to add your choice of colored lipstick.  Make sure it matches your liner and glitter!
Step five: Now, swipe a bit of Forever Wear Glitter Base Almond over your lips so you have an all day and all night hold.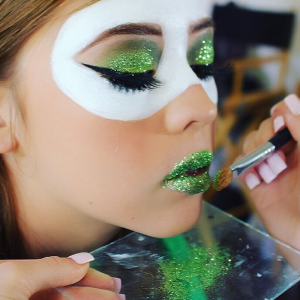 Dip a small brush in your glitter and dab it onto your lips. Start at the center and work your way to the outer part of your lips! And voilà – your glitter lips are done!
Bosso Pro Tip: You should clean any excess liner, lipstick, or glitter off with a slanted eye-shadow brush that is covered in moisturizer and concealer.
For your glitter – I recommend using Lit Cosmetics . They have epic glitter and the widest selection on the market. I've been using their glitter at Bosso Intensive Makeup School in LA since the first day I met CEO and Founder Jodie Perks at IMATS Los Angeles years ago!
My students go crazy over her glitter and is a staple look in class among the demos I teach them.
No glitter, no glory!!
Aren't these lips sizzling sexy and gorgeous?! I'd love to see how you're rocking them! Tag me in your photos on Instagram @bossomakeupbeverlyhills, so I can take a peek!