If you haven't heard the scoop on what went down at Rachel Zoe's ZOEasis Style Retreat at Coachella, I've got it for ya!
Every "in the know" Cali girl's heart breaks a little around this time of year. It's almost the end of Coachella 2018 sadly. But, it commenced in the most stylish way at fashion icon Rachel Zoe's annual ZOEasis Style Retreat. With this years theme being "Moroccan under the desert sky", held at none other than the sexy Parker Hotel Palm Springs. Rachel displayed her mostly white sleek and classy Spring collection with a little help from gal pals Paris Hilton, Olivia Culpo, Whitney Eveport, Sarah Foster, Erin Foster, and Victoria Justice where they vogued for the Papparazzi smiling and twinkling brighter than the desert stars.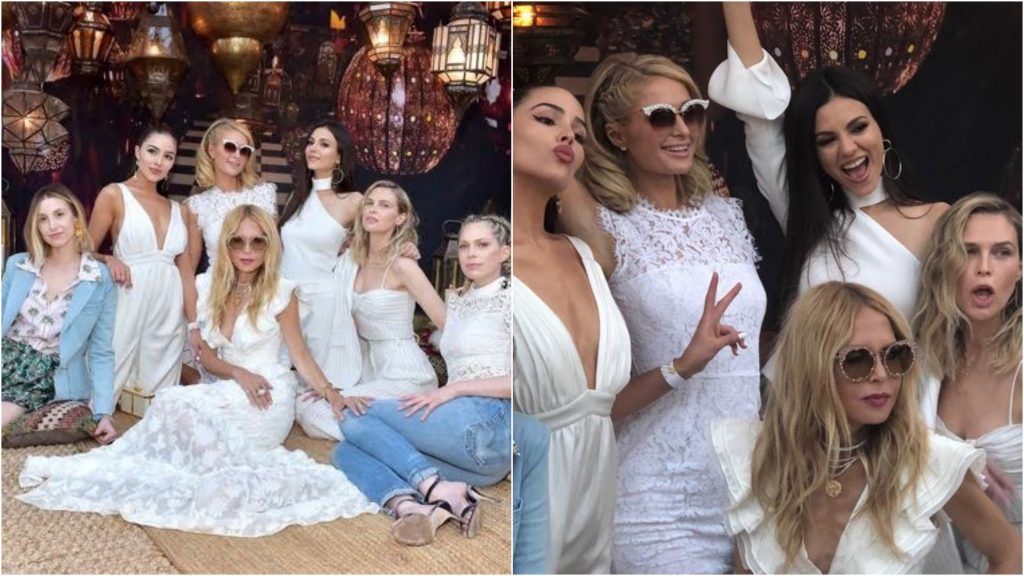 As soon as we were greeted at the door, we were given luxe swag bags full of dreamy products from the likes of Pravana, along with cute beachy slip-ons from Keds, skin nourishment from SK11, Sephora mascara, Supergoop Sunscreen, the coolest (and I mean that literal) workout bottles by Swell and of course a sweet makeup bag with OPI polishes inside just to name some of the amazing goodies.
As we made our way inside and down the path of lush greenery and giant palm trees, another set of double wooden doors opened up to an eclectic scene of bohemian chic (sported on your true Chella girls), to posh fashion with tailored clean lines on the swankiest of ladies.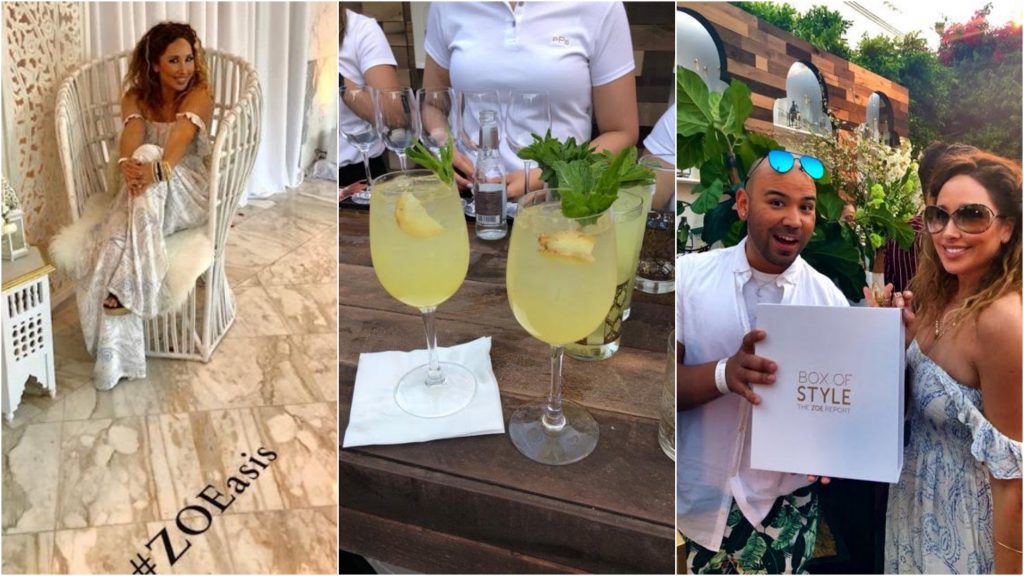 Light bites and hors d'oeuvres were served at low Moroccan style tables with tapestry cozy pillows for seating where we sat and drank Ginger and Grapefruit cocktails courtesy of Belvedere vodka.
A bit later, we walked over to Amazon Echo Look where snapshots were taken of us and then given our favorite thing in life… The Zoe Report's Box of Style Spring 2018.  Rachel's Christmas box (which I'm still recovering from), was pure bliss, but this one from Rachel Zoe's ZOEasis party … OMG.. sooo good!
Here are my faves….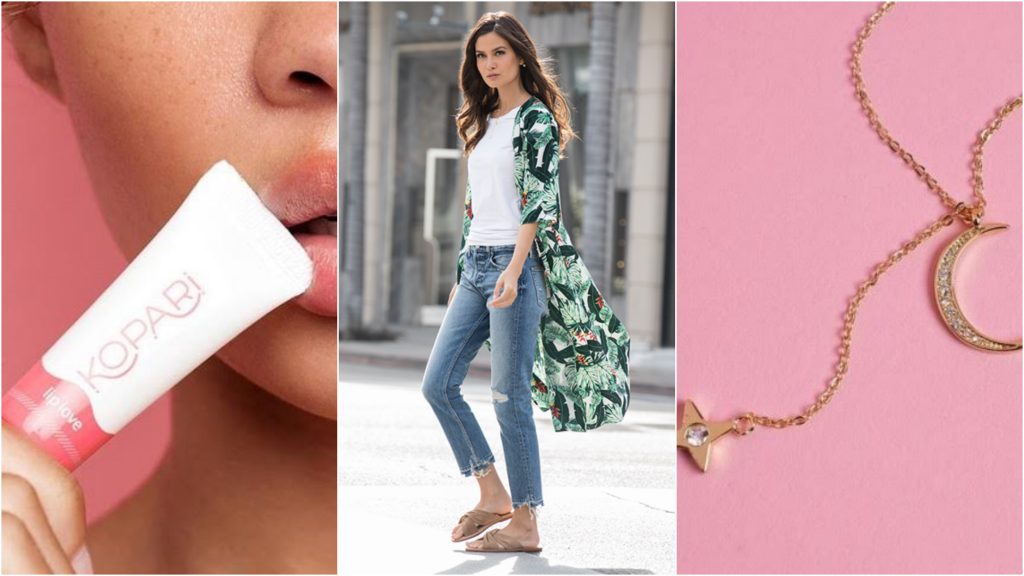 Labeled as "West Coast Cool" by RZ, this Palm duster is so super chic which I personally wore last week with a James Perse T and my favorite jeans and heels. This duster instantly dresses up any outfit and brings a sense of style effortlessly.  Don't forget a sweet draping gold necklace and Zoe's pair of Bonnie and Clyde sunnies to finish the look.
Talk about for the love of Coconuts! I am super duper into Kopari's lip-gloss and facial rose spritz both drenched with the never-ending smell of coconuts! So beachy!!
I was over the moon and seeing stars when I opened the sweet velvet bag inside the Box of Style and found the Lili Claspe "Rope the Moon" necklace. There is nothing more delicately adorable.
Talk about a dichotomy of cool yet chic, the leather wrist rope with gems from Jen Atkin is to die for. It can be a hair band, a wrist cuff, a necklace, or a belt. Now how's that for ultra versatile?! Every girl needs this.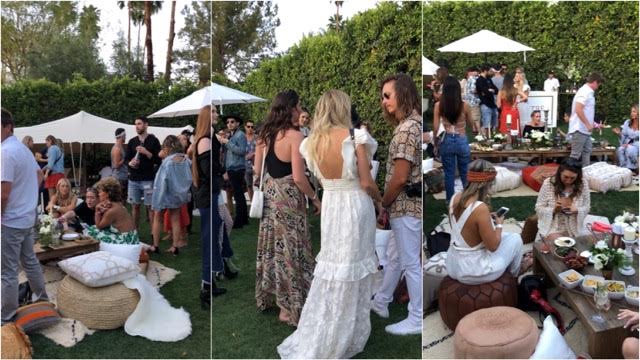 By the end of the night, we missed getting the cool henna on our hands and treatments by Pravana and OPI, but there's always a next time at the queen of style's soiree après!
For more pix and video of Rachel Zoe's ZOEasis Style Retreat at Coachella follow my IG @bossomakeupbeverlyhills.