Thanksgiving is coming up quick! Whether you're hosting your own "Friendsgiving," meeting your man's parents for the first time, or just heading home for the holiday to be with your crazy fam, there's a makeup look for every situation.
I hope you're hungry for some serious inspo 'cause these makeup looks are deliciously similar to your favorite Thanksgiving dishes. Think lips the color of cranberry sauce, bronzers that shimmer like apple cider, and eye makeup that resembles candied sweet potatoes…mmmm!
THANKSGIVING MAKEUP STYLES:
This TG holiday we're falling into earthy tones, but in this blog I'm going to take it one step further. Here's how to spice up each simple look to get you frenzy ready for when you hit the stores at midnight for Black Friday!
Pink Champagne Monochrome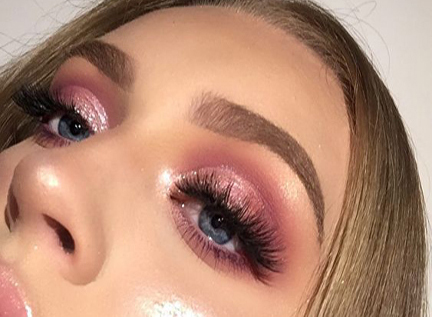 Monochrome makeup is all over the runways and red carpets this season. So why not make it a trend at dinner with your boyfriend's 'rents?
Huda Beauty's eyeshadow palette in Mauve Obsession would be amazing to use to create a dusty rose shimmering blend on your eyes. For your lips, L'Oréal Paris Colour Riche Extraordinaire Lipcolour in Molto Mauve is in the same color family. And to complete this look, add a touch of Maybelline Master Hi-Light in Pink Rose over your blush.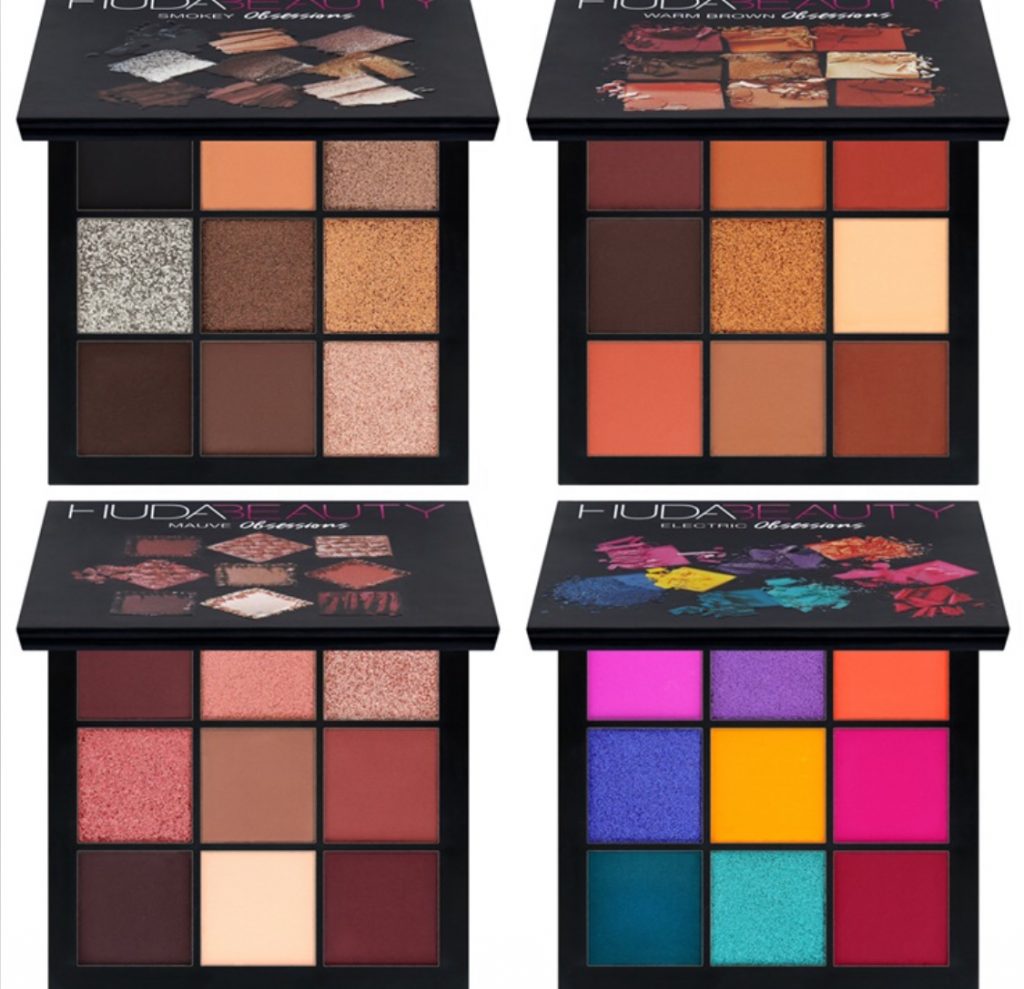 Take this look from simple and shimmering to showstopping by flicking a strong cat eye on your lids. Then layer on a bolder lip shade in plum. The satin finish of Bite Beauty's Amuse Bouche Lipstick in Rouge Berry is perfect for the chilly night ahead of you.
Plus, the mix of pink and purple will be glam, and it'll show the babes rushing to the sale rounder at Beverly Center's BCBG that you mean business when it comes to 50% off STOREWIDE through Thanksgiving weekend. Umm, YES PLEASE!
Pumpkin Lips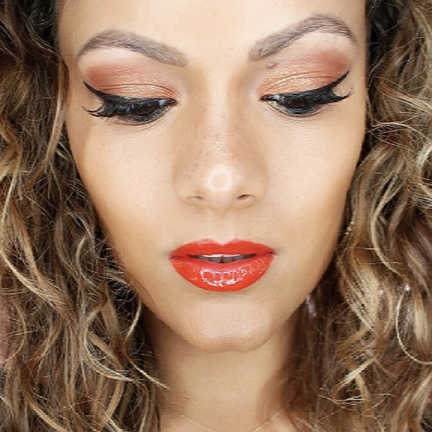 Say buh-bye to classic red lips during Thanksgiving, this season it's all about layering your lips with shades of orange. Think pumpkins and crisp falling leaves… if your babe's favorite dessert is pumpkin pie, I can't guarantee he'll keep from kissing you all night!
Play your entire look down with a subtle peachy blush and black lengthening mascara. A great brand to try to get this lip color would be Nars Audacious Lipstick in Geraldine.
Before you head out the door to snag some of the great beauty deals at Ulta next weekend, freshen up your look by darkening and giving your brows a feathery finish with Tom Ford's Brow Sculptor. Simple, but frenzy ready! You'll only have to touch up your lips after consuming a much needed espresso filled latte.
Candied Sweet Potato Smokey Eyes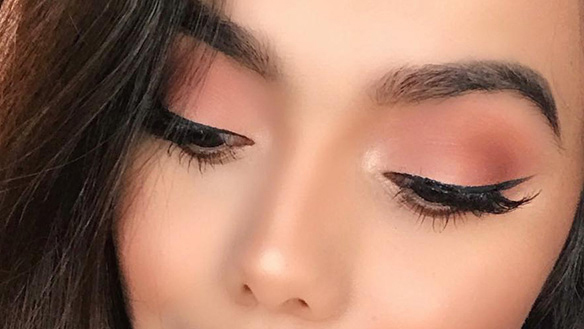 Candied sweet potatoes are a super similar shade to earthy smokey eyes (which are a staple for Thanksgiving). I was recently sent Makeup Geek's Fall Launch and tucked inside among the goodies I found In The Nude eyeshadow palette, and I'm in LOVE.
The pigmentation is phenomenal and the amount of shimmer is spot on to take any look from drab to fab. This palette has earthy matte, shimmer, and foiled shadows to make your eyes the sultry focal point of your look. 
Let's take a few secs to admire this palette: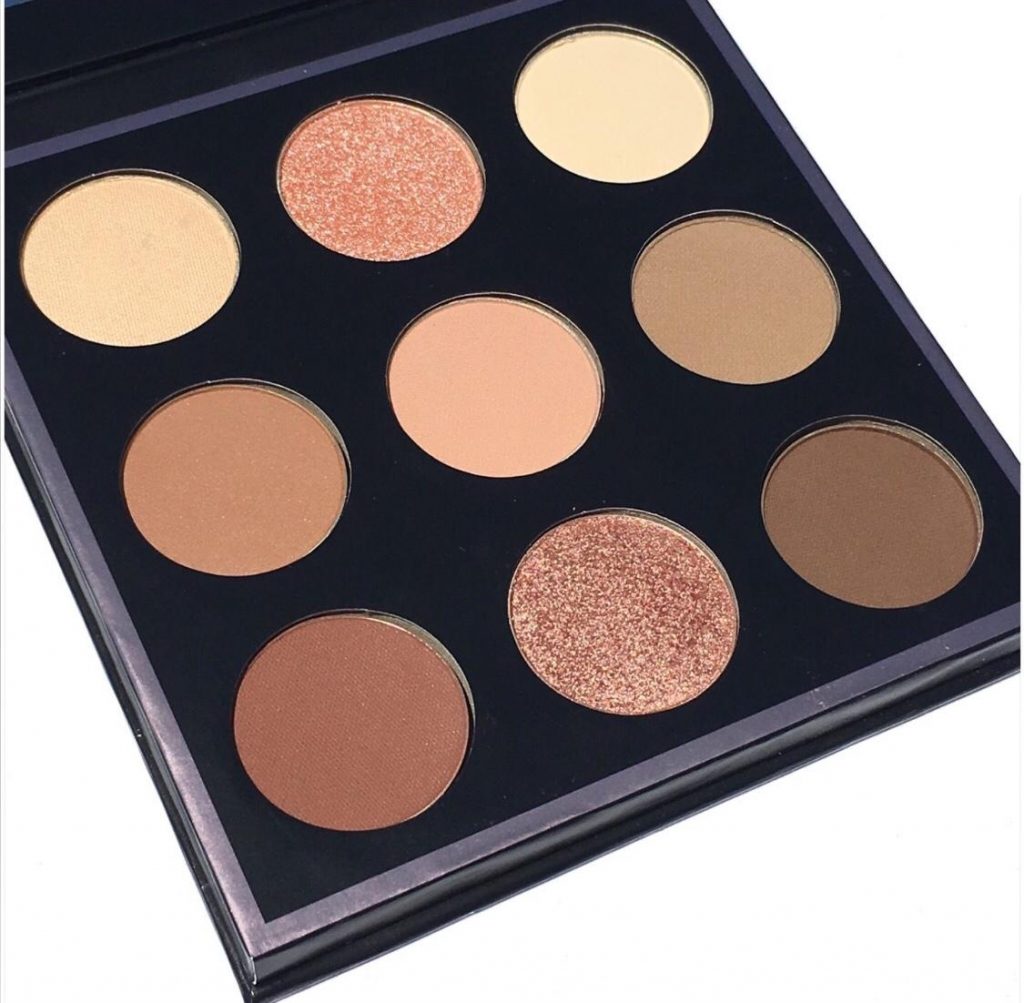 Paired with cranberry stained lips like Urban Decay's Revolution lipstick in F-Bomb (now that's one you can totally drop in front of your family! LOL), you'll have a gorgeous look that is perfect for turkey day festivities.
This toned down look would be great to wear while Skyping with your bestie and holiday shopping online this season. Hey, not all of us like sale-thirsty crowds – I get it! Some of my favorite sites to hit up on Black Friday are Polyvore (you can find anything you're searching for fashion related here) and Traffic (which is trendy and unique fashion for men and women), so snag that fashionista male in your life the latest threads while you're at it!
Apple Cider Glow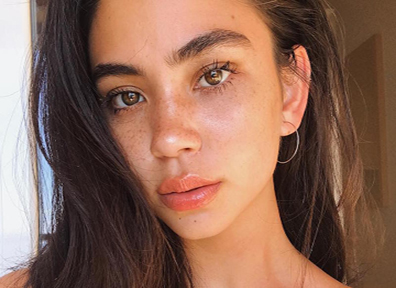 The turkey isn't the only thing that's going to be golden and bronzed this holiday. You better get your GLOW on! A glitzy and shimmering highlighter like BECCA Shimmering Skin Perfector Pressed Highlighter in Golden Bronze Pearl is perfect to take you from zero to she-ro. This highlighter is so unbelievably pretty and creamy with a high-shine finish.
When you walk into your best friend's PH radiant af for Friendsgiving, the composer next door won't be able to take his eyes off of you! His POV: you in slo-mo with The Sound of Music playing in his ears!
---
What Thanksgiving makeup looks are your favorite and what shops are you most excited to visit on Black Friday? Drop me a line on Instagram @bossomakeupbeverlyhills!
In the big picture, remember it's not really about clothes, makeup, and all the superficialities. It's about what lies deeper and gives true meaning to your life. It's all about love and giving. Those are what truly awaken the spirit. Now get out there and spread some goodness!
Please follow and like us: