Today I'm talking makeup for men, or what we more commonly refer to as men's grooming. Men oftentimes tend to shy away from makeup or other aspects of grooming that are considered "feminine." But grooming and makeup are about taking care of yourself and putting effort into your presentation—something that definitely should not JUST be important for the ladies.
As one of the top LA makeup artists, I'm here to help educate on the basics of men's grooming (because not only ladies want to put their best foot forward) and how to elevate your game when you're feeling more daring.
Men's Grooming – The Natural Look
In my lengthy makeup career, men's grooming has mostly been about looking as natural as possible.
Working on campaigns such as Paige Jeans, we went for a more masculine vibe and kept the guys with a little scruff and touched up imperfections on the skin and any dark circles under the eyes. I even blended in minimal apricot cream cheek color for a healthy pop.
There are the exceptions of "guy liner" or chiseled cheeks with contouring for the runway, but mainly it's the invisible makeup look men are looking for. There are an array of makeup and grooming products for males, but my top three on a job are moisturizer, foundation, and powder, preferably HD powder which is micro thin and produces zero texture.
Foundation is meant to help even out skin tone and conceal blemishes and chafing, but for guys ya gotta keep a light hand. I feel liquid (or a watered down cream base) give the most natural looking skin for a man but still giving enough coverage where needed. The whole point is to make the guy look put together and attractive, but still manly AF.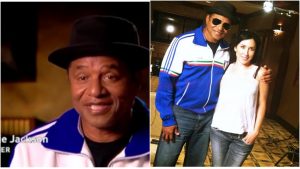 Left: Jackie Jackson (Janet Jackson Documentary) Right: Jackie and me (and Brooklyn in my belly! Yes I was 5 months pregnant here!)
For occasions such as red carpet, editorial and  film, I would suggest airbrushing or a super light coverage foundation. Again, we want to keep the man looking masculine and uncontrived. When I worked on The Janet Jackson documentary for the BBC, I applied  airbrush makeup on the iconic Jackie Jackson. I used a silicone based airbrush formula by Temptu in #8 and #9 and mixing in a few drops of #10. I always opt for silicone even if the skin is on the oily side because I feel it always looks most natural than other airbrush formulas. I just made sure I powdered Jackie really well matching his skin tone appropriately with Bosso medium toned HD powder. You can also try translucent HD powder for all skin tones as well.
A few months after working with Mr. Jackson, (and with a bigger belly at 7 months preggo) I worked at Capital Records with Paul McCartney. LIke Jackie, I also airbrushed him, but first applied a thin coat of traditional foundation to act as a natural concealer for any unevenness I detected. Then I airbrushed over it with one swift light pass. I set his skin with a light translucent powder with a tiny fluffy brush being mindful that it will pick up just the right amount of powder needed for the t-zone area so McCartney would still look natural and not over powdered.
For occasions where you don't need such a long   hold (airbrushing lasts around 20+ hours), regular foundation can work just as well and appear just as natural, if combined correctly with moisturizers for a see-through look.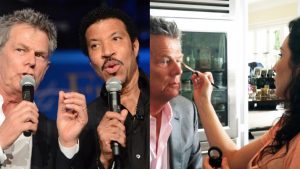 Working on the Lionel Ritchie Documentary, I groomed mega star composer and producer David Foster. (Yes GiGi and Bella's once step-dad). I opted to airbrush him and matched his already tan skin mixing Temptu's' #6 and 7 for a healthy sunny look.
No powder needed since his skin wasn't oily. I finished up with offering him a bit of lip balm and combed his brows.
At times while grooming men, you'll get random requests to tweeze a facial hair where it doesn't belonh, or to color a few grays away with mascara, or maybe cut and tweeze some unruly brows, but for the most part it's pretty straight forward with guys on set.
Their goal is to look rested and handsome — not like a mask was put on.
For the more youthful guys I've done makeup on like Zac Efron and Nick Jonas, well, these guys didn't need much at all. (I see you perfection) Just a bit of evening out with a B.B.cream or tinted moisturizer and super light powder just for "anti-shine."
Add a bit of highlight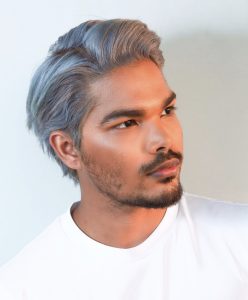 A subtle yet stunning way to take your look just one step further is a perfectly highlighted cheekbone. My Boss of Glow is perfect for giving you radiance with zero sparkle (no Edward from Twilight here), and the creamy formula will allow it to blend perfectly and look minimalistic.
Accent the eyes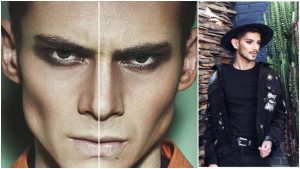 Come on guys, it's 2018… let's get a little bold and daring with some sexy black smoldering liner. (Think Steven Tyler, Dave Navarro, or Johnny Depp). There's something to be said about a guy who isn't afraid and is totally confident about trying new looks and pulling it off with swag.
Easily turn heads, without a full face of makeup, by simply accenting your eyes. There are a couple different ways to take this. Like the look on the left, you can break out the guy-liner and go for a dark smudged look along your top and lower lash lines—a little bit more rocker and edgy. Perfect for an already dark ensemble, and not overwhelming.
Or for a little more pop, use shadow to highlight your eyes. The photo on the right is the perfect example of picking a noticeable but not too flashy color to just draw people straight to your eyes. Just brush lightly along your top lid, and even accent down below. I'm not saying wear these to work but maybe going to a club that's dimly lit and your eyes pop but not in an obvious way.
In need of some men's grooming help? Check out my portfolio and feel free to book an appointment. And don't forget, make sure to share any of your snaps with me on Instagram @bossomakeupbeverlyhills.