Thinking of using makeup to cover up a tattoo? It'll take more than your every day foundation and concealer. And those camouflage kits advertised most likely won't suffice. I suggest tattoo airbrushing for more profesional, industrial, and flawless cover for your ink.
As a professional makeup artist in Beverly Hills I know all about airbrushing; a service to provide seamless and long lasting coverage to my clients as well as to help carefully and completely disguise and cover tattoos.
Read on for my guidance and expertise on the who, what, when, and how of airbrush tattoo coverage.
Why cover your tattoo?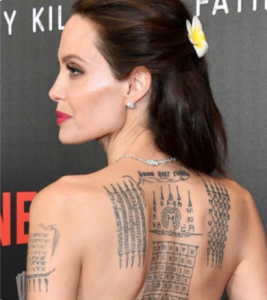 There are lots of reasons you may be looking to cover up a tattoo. Brides often look to cover their tattoos or that of their wedding party if they're in a noticeable area and distracting (you don't want to upset grandma, or even worse, your bff's drunken Cabo tatt of Justin Bieber stealing your spotlight on the big day)
Whether a wedding, big event, or whole slew of other reasons, covering up your tattoo—and even more importantly, and tricky, doing it well—isn't impossible. All it takes is a durable airbrush formula, pro equipment, and a skilled professional makeup artist.
What is airbrush makeup?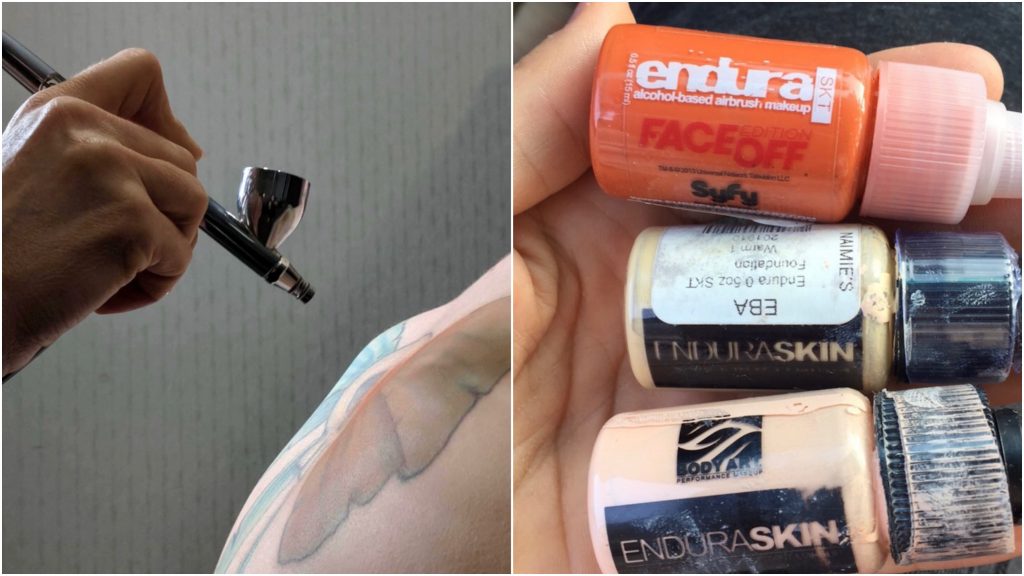 Now I know what you're thinking—airbrushing is what they do to all those celebrities on the covers of magazines to make them look perfect. True …but that's a different kind of "airbrushing" called photoshop!! Haha.
The kind of airbrushing I'm referring to is airbrush makeup that is a micro fine mist of liquid makeup sprayed lightly on the skin. It has two components, a compressor and gun. One doesn't work without the other.  (Like an engine to a car).
When airbrushing foundation, blush and highlighter and done correctly (AKA how I do it and teach it), it's gorgeous and seamlessly natural looking . But.. when done wrong, it can look cakey, too matte and well, just plain awful.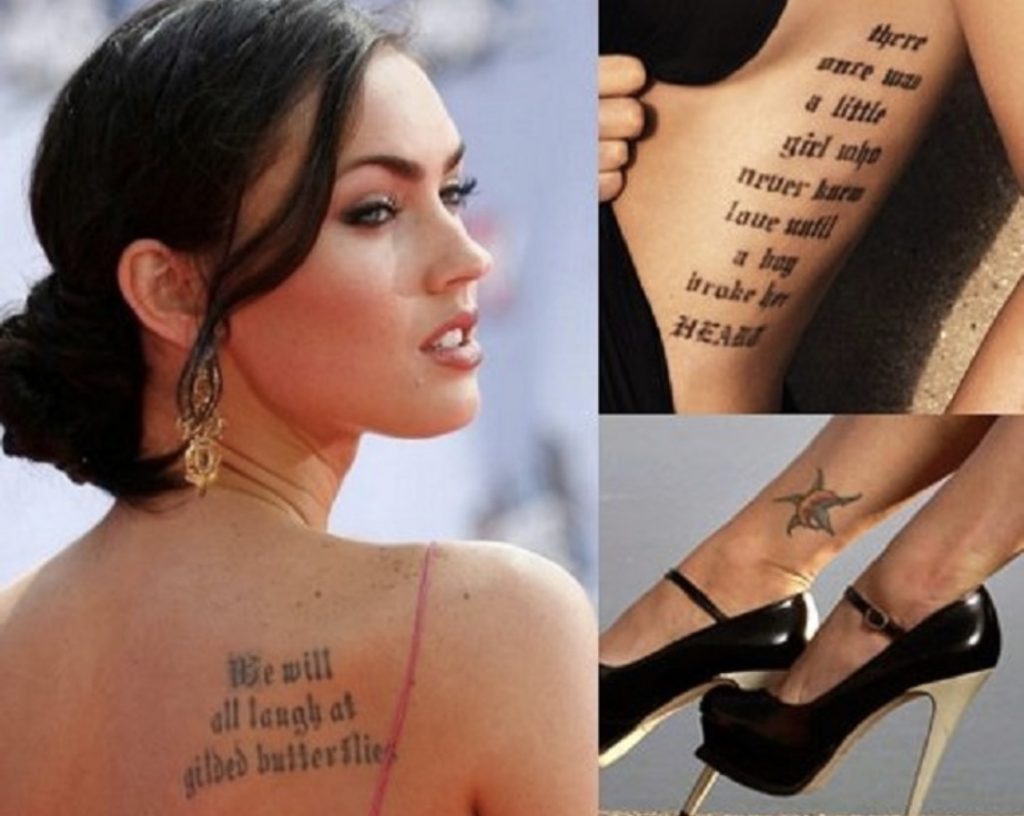 Typically for the face, I use a silicone airbrush formula to give a natural looking dewy finish. But when airbrushing a tatt, you must only use alcohol based airbrush makeup on the body because it gives a matte appearance which looks more natural on the skin. More importantly though alcohol based dries instantly, is non-transferable, and literally will NOT come off until you take it off with rubbing alcohol; the very reason brides and celebrities love it! I see you Angelina Jolie and Megan Fox!
What are the pros of tattoo airbrushing?
A huge pro to airbrushing is that it's easy to apply across the body; perfect for tattoo coverage on your chest, leg, arm, or really anywhere. Just make sure you buy a good compressor with strong PSI (Pounds per square inch for you chemistry haters). It also offers super high coverage without a thick gunky layer of makeup, (yuck to texture) creating a more natural and even appearance.
How to apply and get your best coverage?
First thing's first, not everyone can do tattoo airbrushing. Not only is the equipment not common to own, but really without the best training, it won't be properly applied. You need to hire and work with a professional makeup artist (ahem).
Now that that's out of the way…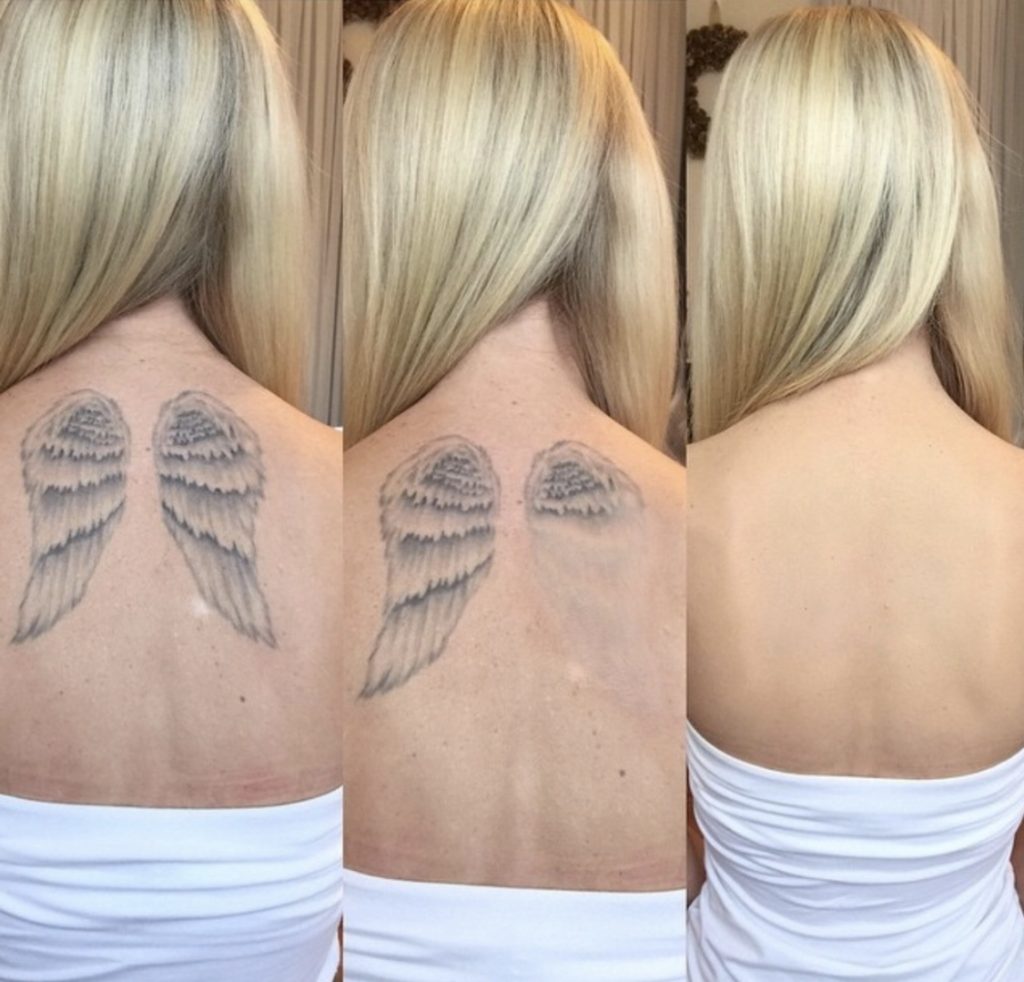 If you're looking to cover a tattoo in an area that naturally has body hair, such as your arm or leg, (or even I've seen backs I've covered that has peach fuzz), it's best first to shave. Otherwise the hairs get in the way of the makeup and take away from the natural blend.
You should then start by making sure the surface is clean and freshly washed.
I always use an orange shade of alcohol-based airbrush makeup to neutralize the colors in the tatt and then mix (back bubble) a blend of airbrush foundation together in the cup of the gun for a perfect match to spray on. There are three airbrush formulas: silicone based, water based,and alcohol based. Typically silicone is used to achieve a glow, water based is for a matte  finish, and alcohol based is typically used for special f/x makeup or tattoo coverage because of its waterproof staying power.
After each layer is applied, it's important to make sure everything looks properly blended. But don't forget, the most important step to airbrushing is color correcting.
Once you've concealed the area(s), I suggest taking a photo of the covered area to check for reflective spots, and you can then use bronzer or powder to adjust and further blend and match the airbrush to your natural skin as much as possible. You may even need to mix a few more shades to your blend and add another layer.
Need your tattoo covered? Check out my tattoo coverage and airbrushing services. Or, if you're a makeup artist or an aspiring one looking to learn more about tattoo airbrushing technique, find out about the super exclusive classes offered at my top makeup school in LA.