Anyone else feeling the amazing pristine energy swirling about since the new year has begun? YES to fresh starts and new beginnings! Bring it on 2018!
But let's talk about 2017 for a sec. There were some great makeup trends that hit the runways and pages of fashion magazines, and lots of cute swagalicious looks on social media. But… 2017 was also a year of some of the worst makeup trends, too—trends that I'm thrilled to say have made it onto my "Bye Felicia!" list. Bye, Bye! See ya ugly!
Worst Makeup Trends of 2017. "Bye Felicia!"
1. Sharpie Brows

In 2017, we saw a lot of "hooker did too much crack", aka "sharpie brows," as I appropriately call them. I mean.. gross! Why don't we just run to Staples and buy an actual sharpie! It's a lot cheaper than this spackle paste these IG'ers waste their money on.. only to end up with this look?! Omg… what the?!
Not one client of mine requested this look, whether she's 20 or 60, and as a matter of fact, would SHOW me this look and say, "do what you professionally suggest, but puh-lease don't give me this look!".
I'd laugh and tell them that they are in the right makeup chair!  I mean seriously, this makeup is a hot mess right down to the fake contacts and is not realistic in the real makeup industry. Sharpie brows must go! Naturally-shaped bushy brows are in!
So, take my advice here and thank me later…
DO NOT square off the front of your brows with a paint-like product. DO NOT create an arch that is too pointy… with a paint-like product. DO NOT overextend the tail of your brow…, ahem, with a paint-like product.
Is it in your brain yet?? And for the love of everyone… do not use too much concealer above and below your brow. A little goes a long way girls! (and boys). Oh stay away from a chalky white shade concealer too. Repeat after me…HARSH. UGLY. HOOKER.
Create perfect brows every time with my Duo Brow Powder, Brow Pencils, and Bossy Brow Highlighter Sticks. 2018 is all about natural, shapely brows. Keep them groomed and on fleek all year long with this combo. Note: Use a light hand and they will always look natural yet defined and bushy.
2. Heavy Contour

Lol.. I had to throw a drag queen in because that's what some of you ladies look like when contoured too heavy.
I know I've said this before, but one of the worst makeup trends of 2017 that needs to disappear is heavy contouring.
Ok, we get it.. you want your face to look chiseled and slim… sexy and angular. But listen up… too much will do all that but make you look like a clown from American Horror Story Freakshow too. Now that's not sexy but damn scary. Is that what you're aiming for?
Contouring is a form of makeup artistry that's mainly used for red carpet, theater, and photography to amplify, define and exaggerate the shape and features on the face. But this look has been done to death! It's one of the worst makeup trends in 2017 and it must be abolished! "Bye Felicia!"
Leave your heavy hand, yellow and white concealer and three different shades of foundation in the past. Instead of a heavy contoured look, choose a Marula oil to mix a few drops with your concealer or lightweight cream foundation to give you a soft, dewy, glowing skin that looks like butter cream. And if you must contour, choose a little bronzer powder to dust over the shade areas and creamy concealer that melts into your skin and is buildable.
3. Generic Kardashian Look

Yes. All. These. Girls. Are. A. Different. Person. Say what?!!
To all girls around the world who desperately try to look like a Kardashian. Please stop! This comes from my heart with love. It seems all the young girls are still trying to 'twin' the famous reality stars—from their hair to their skin to their faux lashes—it's gotten completely out of control.
I look around not only in LA, but all over IG from Dubai, to NY, to China even, and  I think, "who the hell is original anymore?"
It's gotten all so boring. Big fake tushes, tiny cinched waists, big fake boobs, fake lips, cheeks, eyelashes, noses, and straight black hair parted down the middle or slicked back. Ayayay… eye roll.
Makeup should make you look like the best version of YOU—not completely transform you into looking like somebody else. Makeup should be used to enhance your features and disguise your flaws. You should feel confidently you and not a replica of someone else. But too many girls nowadays have lost their identities. They need to be putting their money in a damn yoga class and meditate their way outta that shit.
And don't get me wrong…I'm all for some botox and filler… Yes! Yes! Yes!… and even if people want to get surgery on whatever they feel the need to make them happier with themselves. Good for them. Do it. But I'm just saying, "calm down" and look at yourself… and BE YOURSELF!
Kim K ain't trying to look like you, so don't try to look like her. She's doing her thing. The Kardashian's have their staple look. Get your own. Put this look on your "Bye Felicia!" list. Trying to look like a Kardashian is one of the worst makeup trends of 2017.
4. Spider Lashes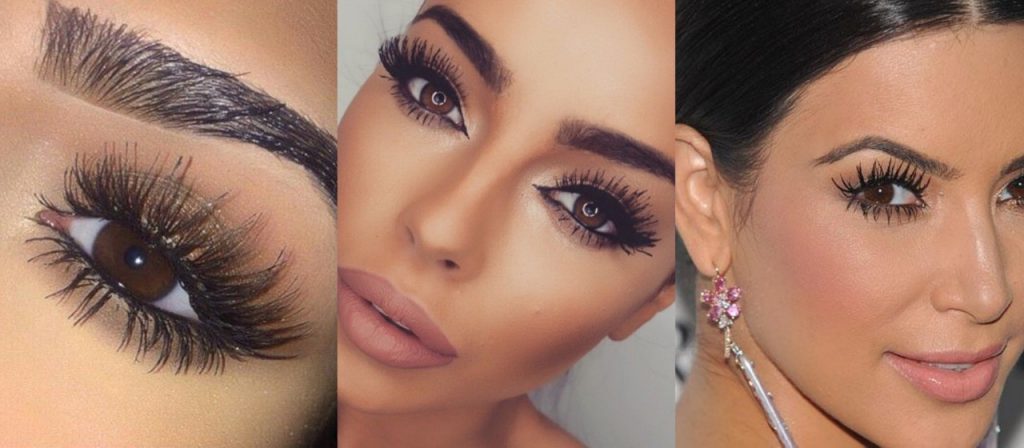 Here's that look again… can't get away from it.
So OVER the over-done eyelash extensions that look like needy tarantulas stuck on their eyes.. If they are practically touching your eyebrows ladies, you went too far. I LOVE lashes, but lets keep em full, long, and natural looking. All Bosso Lashes are human hair and realistic looking but still make your eyes pop!
Hopefully the hairy recluse's will crawl back into the 2017 graveyard and give way to more natural-looking, full length lashes.
5. Overuse of Highlighter

In 2017, you may have been into the extreme strobe look and perhaps you even enjoyed shining like a disco ball. But the makeup trend of overusing your highlighter is on my list of worst makeup trends to leave behind in 2017. "Bye Felicia!"
Leave heavy strobing for high fashion, editorial, or, runway. To tone down your look, simply blend a drop of liquid highlight into your foundation. Think less is more and aim for more natural, radiant skin.
6. Cut Crease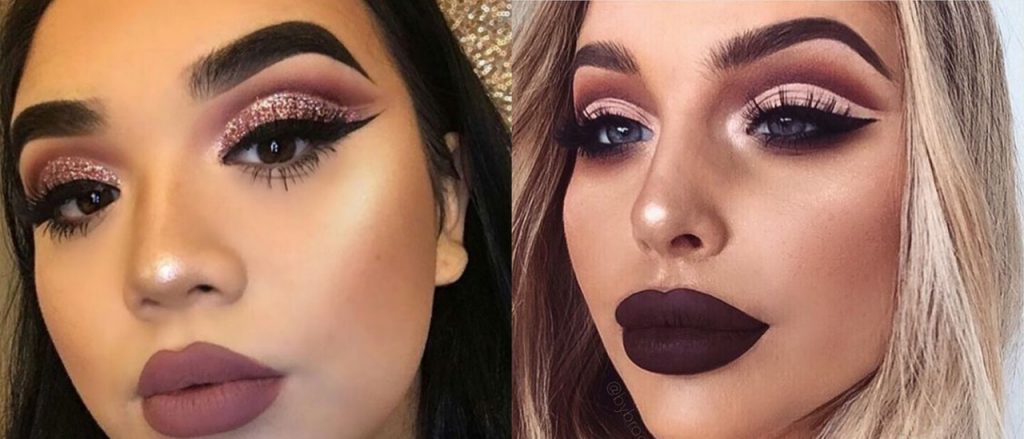 Omg…uhg! How many more times do I need to scroll on my IG feed and see this? I'm looking at the same girl over and over and over again and again… shoot me now.
Cut crease is a makeup technique used to define the crease of your eyelids by "cutting" across it with a contrasting eyeshadow color and little to no blending. If you didn't know what it was before, don't bother googling it on Youtube now, because this trend is also on my worst makeup trends of 2017 list.
Now some cut creases are gorgeous and some artists have some skillZ!! When done right, (softly), a cut crease can lift your eyes and make them appear more open.
But it's just so overplayed now, and again, with the risk of sounding redundant, it's just not realistic for every day.
But I will say YES to this look if you're in a place like Abu Dhabi, Dubai or if you're an Indian or Pakistani bride in which the colors are traditionally bold and makeup is more dramatic which is super gorgeous for a cultural wedding.
7.  Thick Black Over Exaggerated Liner

Black winged liquid liner… do I have to keep seeing the mega thick and super dramatically defined point in 2018? God no, no more torture!
Girls, hear me! To get a sexy eye you don't always have to create a wing. Create a soft smokey eye using  these vegan eyeshadows and blend out softly for a change. You can still use black liner but change it up, little mamas. This is just so hard looking. A nice sweet wing is okay,  but leave this thick elongated one for an awards or fashion show. It's not cool for date night. Trust me. Thick black over exaggerated liner was one of the worst makeup trends in 2017.
Sound Off
Look, in the end, people are gonna wear and look how they want to. If it makes you happy and you're having fun with makeup, fine. Enjoy yourselves. I'm just here giving my expert opinion on what is realistic in our industry and what is way overdone and played out… If you call yourself a makeup artist… you've been warned.
As I work with my models and everyday clients in 2018, I'm looking forward to seeing a renewed focus on healthy-looking, glowing skin, natural brows and bright eyes.
Ciao for now!
What were some of your beauty hits and worst makeup trends of 2017? Let me know which makeup trend is on your "Bye Felicia!" list and tag me on IG @bossomakeupbeverlyhills.