It was a night of diversity and equality in Hollywood with speeches walking on the light side of politics for a change (which I found quite refreshing). Let's get into breaking down the Best and Worst Red Carpet Makeup looks Oscars 2018
As always, it was an evening of unstoppable glitz and glam in Los Angeles. Not only were the winners and nominees diverse in race and gender, but the makeup was as well. The Academy Awards 2018 did not disappoint in style. We saw stars dressed in Dior and Rachel Zoe, and makeup either with strong dark smokey eyes or left light and feminine.
On my side in Beverly Hills…. it was a busy morning!
One of my makeup clients was representing the nomination for best foreign feature film, The Square.
To go with her off-shouldered sleek dark blue dress, I chose a bold but classy navy eye with light shimmery lids, along with a red/orange lip and air-brushed skin by Temptu. To finish the look, Natasha Denona's cheek and highlight palette did the trick and turned her sallow and pigmented skin flawless and radiant. Her before and after photos below are completely un-retouched! That's the magic of a skilled professional makeup artist with an airbrush gun in hand!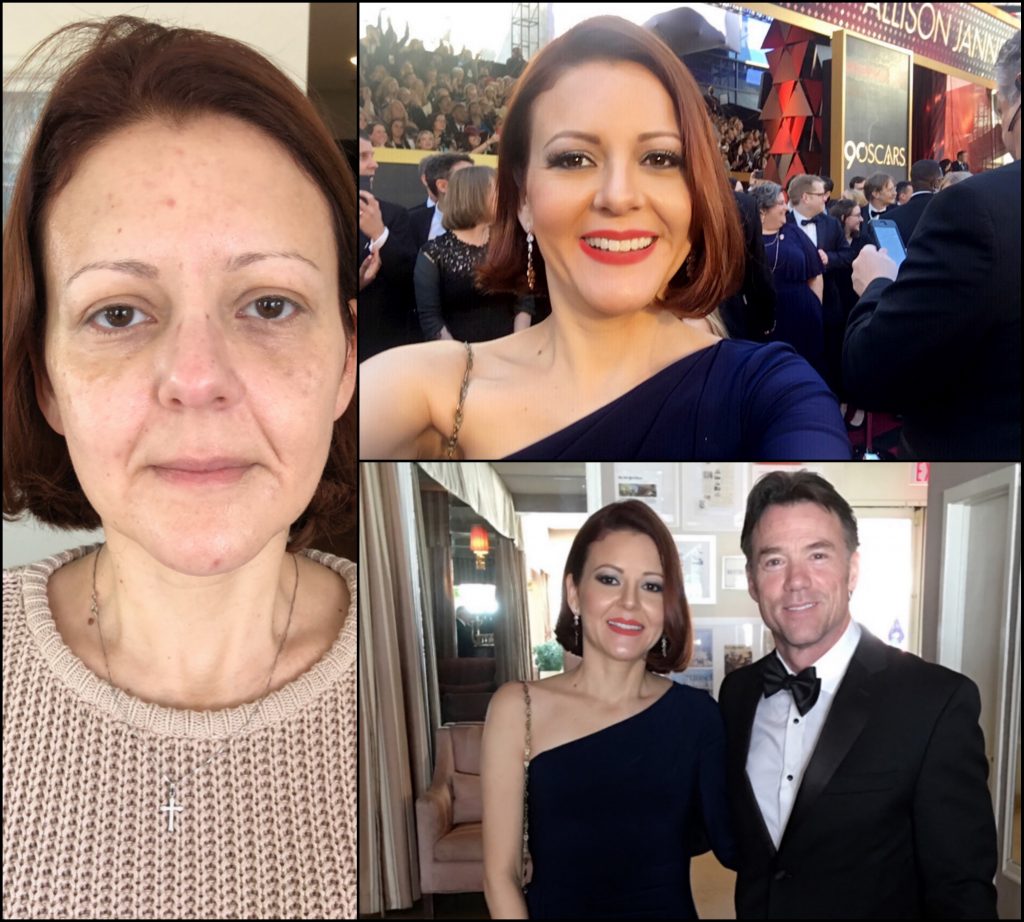 Let's take a peek at more of the Best and Worst Red Carpet Makeup looks Oscars 2018 from your favorite stars…..
Emma stone and Margot Robby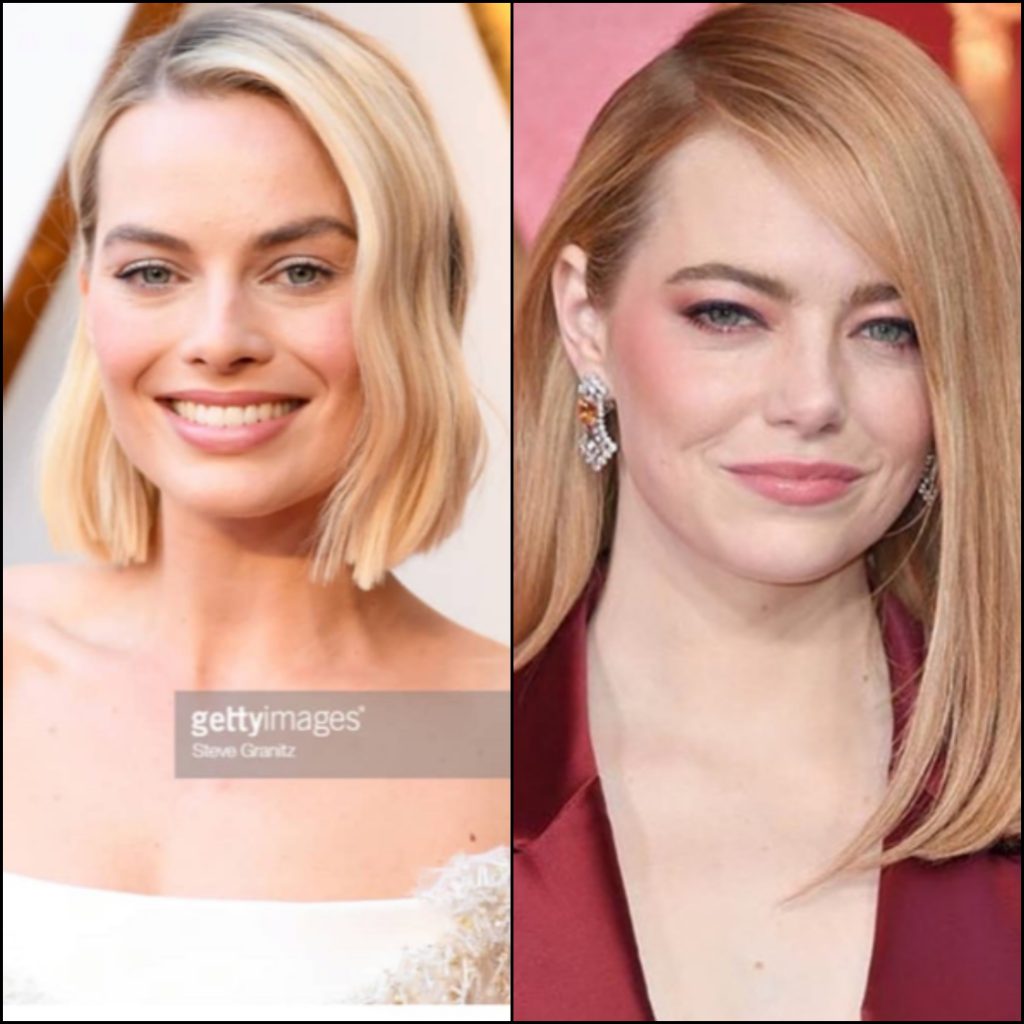 Let's just say Margot was back to her gorgeous self with her natural beauty shining through. (Did you see the makeup in I,Tonya? Woo wee, ouch!)
With minimal makeup and skin glowing fresh, her look was subdued and sweet.
Emma had more of a pink twist happening. From the playful pink/red eyeshadow with a peculiar liaison with her blush that almost came out as an airbrushed runway look, it left me a little confused. I wish there was some black liner involved. Wasn't feeling all that "pinkness". With the lips in the same family and her suit the same color scheme, it was a bit much. But with her vivacious and smart personality though, she can practically carry anything off.
Nicole Kidman and Gal Gadot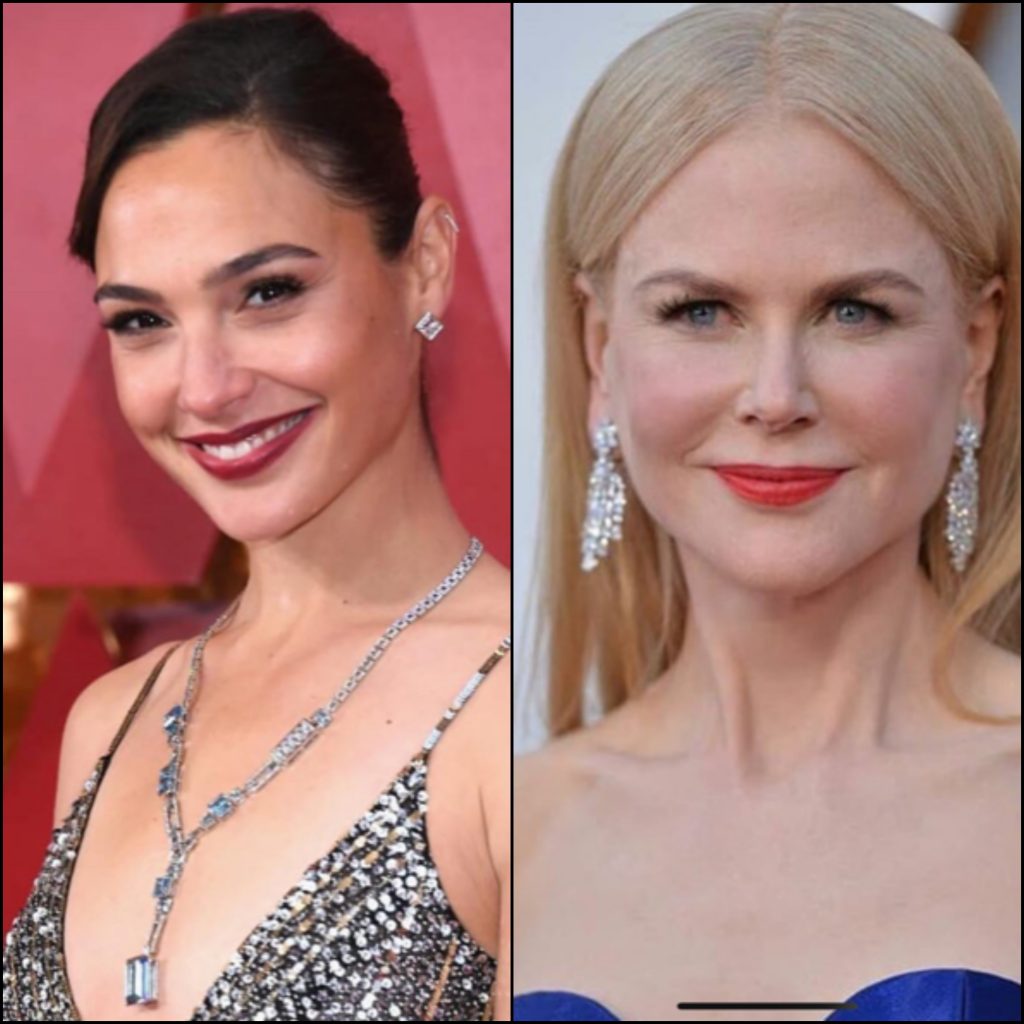 Both of these stunners kept the eyes light but opted for a pop of lip color which I loved.
I mean with gowns like these I can see why the makeup artist went in this direction. Let the dress make the statement!
Gal is so sexy and gorgeous anything will suit her. And Nicole's makeup I thought was age appropriate … softer skin/ bolder lip.
Jennifer Lawrence and Sandra Bullock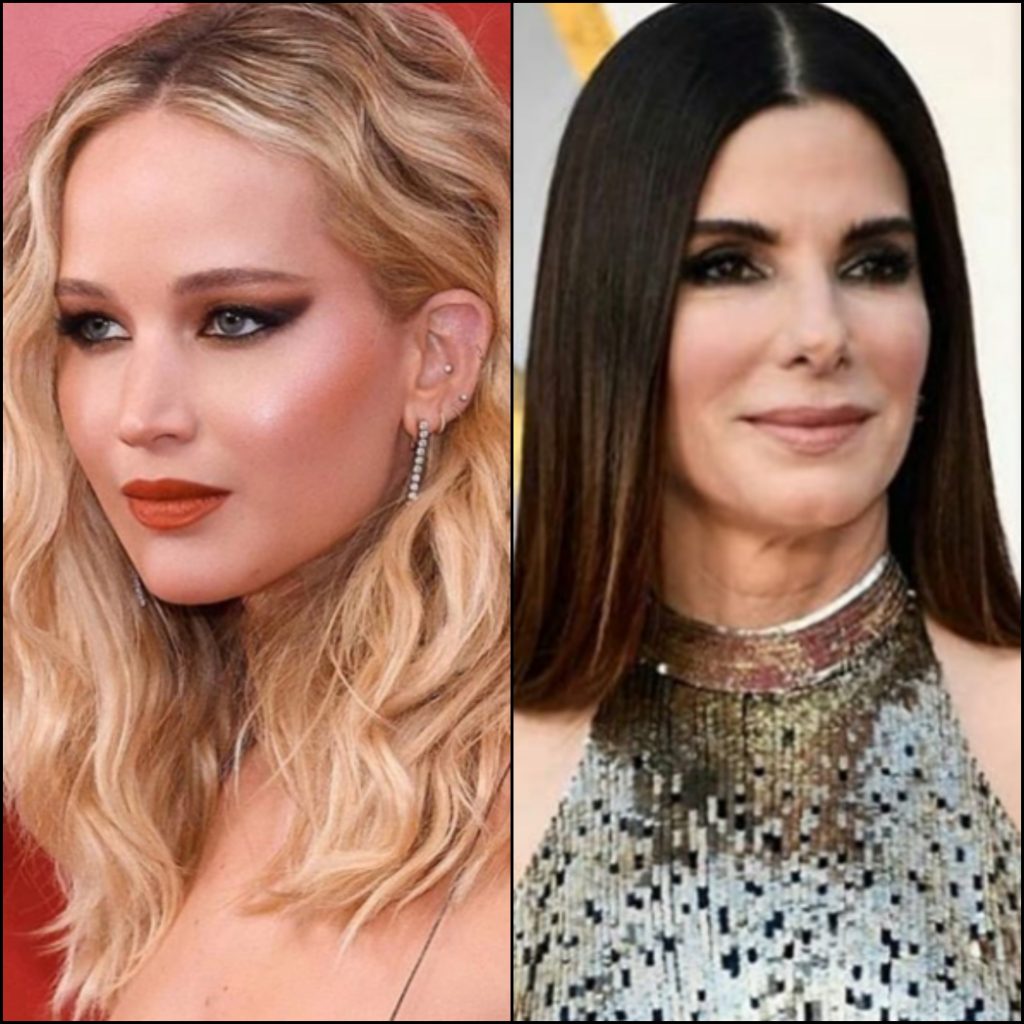 Wowza! These ladies didn't hold back with their dark smoldering black smokey eyes.
Jen pulled all the stops with her drawn out cat smoked eyes with bronze/gold lining the rims and swept up to her brows with no space left for highlight. She carried it off well with the highlighted cheeks and coral gold lips but for the Oscars? … I don't know. It was a lot. Maybe more apropos for the MTV Awards. Sandra facetiously mocked her own age, but for fifty-one she rocked those smokey bad babies. With her skin and lips natural, it just worked.
Two last looks for the Best and Worst Red Carpet Makeup looks Oscars 2018…..
Allison Janney and Lupita Nyong'o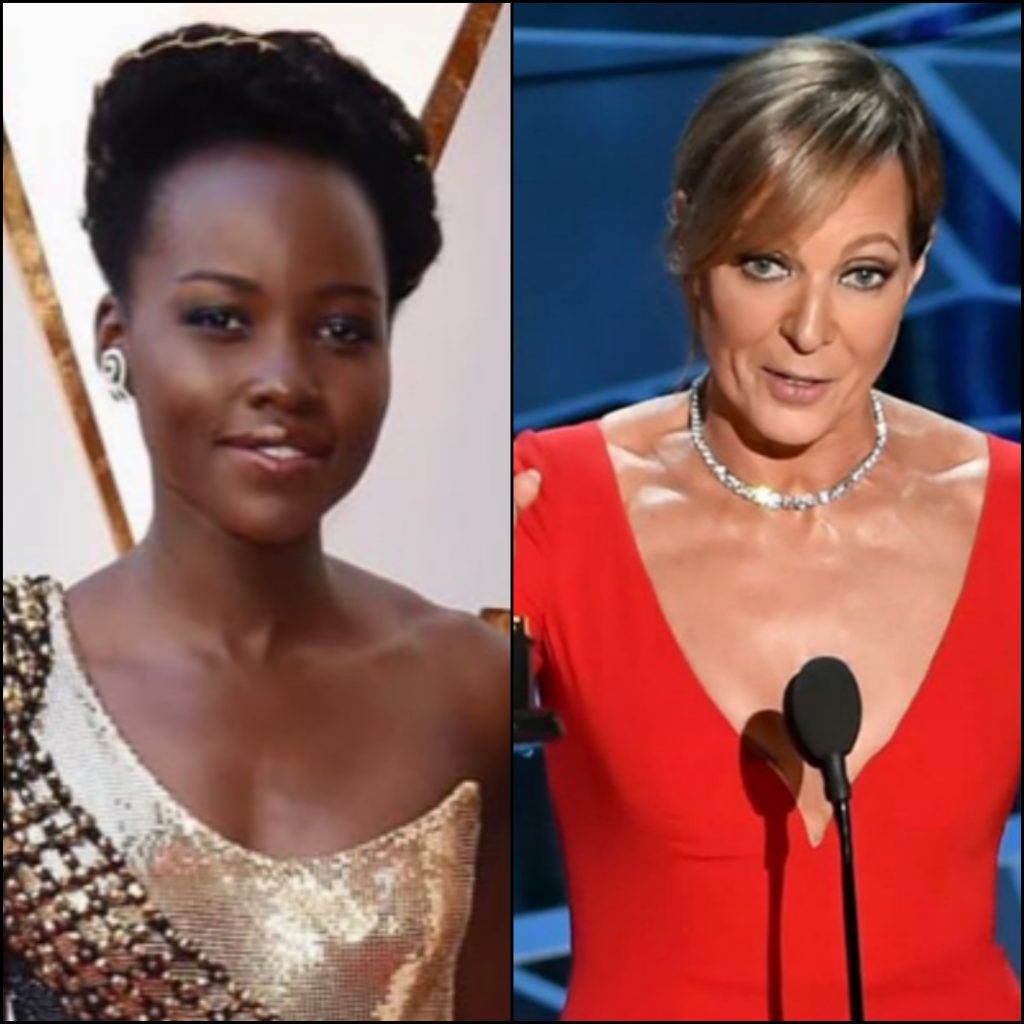 Allison took best supporting actress but both ladies looked like winners.
Lupita walked the carpet with an incredible luminosity on her skin and lips. Her eyes were smokey but very soft with a wild pop of blue. She looked beautiful.
Allison's eyes we're rimmed with black liner and diffused well. A light matte vanilla shadow was applied to the eyelids to give a youthful appearance. If you haven't seen her performance in I, Tonya, you must! You just want to hate her in that film, that's how good she played Tonya Harding's heartless mom.
Excluding the makeup and fashion, my favorite part of the night was Jimmy Kimmel. Class act and always funny. A perfect entertaining host for the Oscars.
I'd love to hear what your picks are for Best and Worst Red Carpet Makeup looks Oscars 2018.  Tag me on Instagram @bossomakeupbeverlyhills
Stay tuned for some upcoming blogs on NYFW with the Bosso makeup team and a special blog on PDO thread lift! Does it really work? I've got the scoop!
Please follow and like us: