Have you ever wondered why some women look so radiant all. the. damn. time? Are they spending hundreds of dollars on exotic beauty products? Good genes? Or are there some beauty tricks you just don't know about?
Let's get into how this magic happens…
It's no secret the best professional makeup artists in the world can easily spot the simple trick behind these brightened faces  – a liquid enhancer!
Let me enlighten you (pun intended) on another little secret: Enhancers are the easiest and quickest way to fake dewy, glowing, and younger-looking skin – if, mind you, you're using a good product!
Some luminizers or enhancers look too sparkly and you end up looking like a disco ball… which is NOT a good look, ladies. It's maybe cool in editorial photos but not in real life.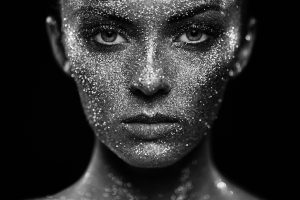 And the truth is, most enhancers are not cut out for being applied OVER your foundation, only mixed IN your foundation.
This is why I'm introducing SKINtillating Liquid by Bosso Makeup Beverly Hills. This versatile enhancer can be worn any way your heart desires. It will dry into a ridiculously gorgeous sheen that breathes a summer sweetness to your skin.
Simply put, this enhancer liquid adds life to your foundation or moisturizer tenfold!!
This brilliantly incandescent product is created with tiny light reflecting particles that capture light so that your skin will glisten and glow like never before.
SKINtillating Liquid consists of subtle pink and yellow undertones that are infused together, with crystal-like mica that takes average skin up to a level of WOW!
The best part? SKINtillating Liquid is perfect for all skin tones.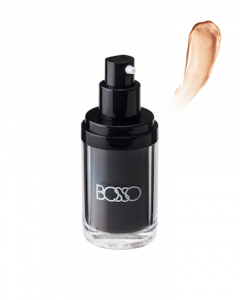 I love when ladies look and feel their best, so I'm going to share two little celebrity makeup tips that I always use at red carpet events, photoshoots, and even in my own daily makeup routine…
Mix SKINtillating Liquid in with only your moisturizer and you will be rocking a glistening natural "gym" look; however, if you add this product into your favorite foundation, you'll have a goddess like glow that screams perfection.
Applying SKINtillating Liquid is a trick worth knowing for date nights, clubbing with the girls, or even on regular days when your skin is looking a little dull.
Here's how you should apply SKINtillating Liquid, if you aren't mixing it into your products:
Step one:
Pump a little liquid onto fingertips, smile, and find your cheekbone.
Step two:
Gently dab the enhancer along the high of your cheekbones and blend.
Bosso Pro Tip: For a fresher glow, add a little extra SKINtillating Liquid to the apples of your cheeks, temples, and the inner corners of the eyes. Swiping a little bit down the bridge of your nose will help slim and define. For ladies with a low bridge, it will help pull it out and give balance.
For more sexiness, you can even blend SKINtillating Liquid onto your shoulders and collarbone. This will achieve an ethereal glow that looks super healthy and irresistible.
Step three:
Use your finger to blend the product into your skin, just enough so that it leaves behind that glistening sheen.
Do you want to make your Instagram followers envious with that just-got-back-from-paradise glow… But don't have the funds to actually go there look? Fake it, babe, by snagging yourself some SKINtillating Liquid!
Be sure to follow me on Instagram @bossomakeupbeverlyhills, so you don't miss out on any sizzling promotions regarding this sparkling new product.