Sunday, 03 June 2012 22:36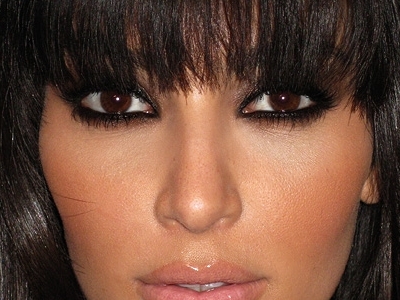 THE KIM KARDASHIAN SMOKEY EYE IS SUCH A POPULAR REQUEST, SO I ADDED IT TO MY CURRICULUM IN MY 4 DAY INTENSIVE MAKEUP SCHOOL I HOLD EACH MONTH IN BEVERLY HILLS. I THOUGHT PERHAPS I SHOULD ALSO INCLUDE IT IN MY BLOG FOR THOSE THAT AREN'T ABLE TO TRAVEL TO LOS ANGELES. SO HERE IT IS STEP BY STEP WITH MY TWIST ON IT.
First apply eye primer. I like photofinish eye primer from Smashbox or Face Stockholm Eye Fix
· Apply an eyeshadow base from browbone to lashline. Kitten from Stila is gorgeous. Go easy on the browbone with this shadow
· With a dome shape eyeshadow brush, and crease brush apply either a bronze color eyeshadow (NARS Paramaribo Duo) or a duo of matte black and metallic black (Mac Cinderfella).                   lighter color should go on lid and darker into the crease, outside lid and V on the outside corner of eye. Repeat a few times in crease and V until desired depth.
· A coal black pencil should be applied on the bottom eyeline only. I leave the top for black gel liner.
· Smudge liner with smudge brush. Mac has two of my favorites.
· Place Cinderfella shadow over the black liner and smudge again
· Next curl lashes with Shuemura curler
· Apply lashes in #213 (will be sold in my products page soon)
· Curl lashes again
· Place two or three coats of mascara (Dior Blackout, Makeup Forever Smokey Lash or L'oreal Volumionous) on top and bottom lashes
· Take black gel liner (Mac fluidline in black track) and apply a thin line from the inner upper corner of the eye and extend out to achieve a point aiming for a cat eye.
· Apply gel liner inside upper and lower water rim to pop and to tie it all together
· Fill in brows with Coquette eyeshadow from Mac with an eyebrow angled brush
· Comb through with spoolie to lift excess powder.
THE REST OF THE FACE SHOULD HAVE A DEWY RED CARPET GLOW TO IT FOR ULTRA SEXINESS, WHICH I WILL GO OVER STEP BY STEP LATER IN JUNE.