'Bosso Artistry Makeup School' Best Makeup Academy in Los Angeles and Best Makeup School in America voted by CBS, Fox, LA Confidential
Call or visit here for 2022 Course Dates
(310) 415-4885
Email Email Placeholder

The Pioneer of Intensive Makeup Schools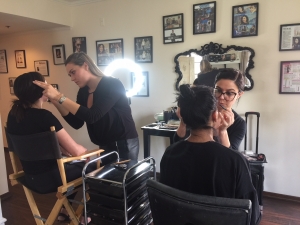 Kimberley Bosso is a Los Angeles based celebrity makeup artist with a list of celebrity clients under her brush. Her clientele includes famous faces from Hollywood and the fashion industry - Zac Efron, Gwyneth Paltrow, Justin Beiber, Marissa Tomei, Taryn Manning, Paul McCartney, Al Pacino, Candace Cameron-Bure, Paige Adams-Gellar (Paige Denim), Rachel Hunter, Carmen Electra, Andy Garcia, Matt Damon, Nick Jonas, Ralph Lauren, D&G, Donna Karan, Gypsy Junkies, Calvin Klein, John Varvatos, Bereshift, Fllumae, Noe Bernacelli, and a host of others. Kimberley has appeared and worked on television networks such as the BBC, FOX, Bravo, Warner Bros, Paramount, Disney, Universal, NBC, CBS, Nickelodeon, MTV, to appearances as a Beauty Expert on TV shows such as The Doctors (Paramount), Home and Family (Universal), The Real, The Fab Life, and as Lead Makeup Artist for Fashion Weeks each year in Paris, New York, LA, and Milan, leading the Bosso Makeup Team who happen to be graduates from Kimberley's highly sought after and exclusive makeup courses in Los Angeles.
For aspiring makeup artists, beauty enthusiasts, or the everyday woman, who are interested in learning the latest fresh makeup techniques straight off the runway and red carpet, and the tricks of the trade in the makeup world, Bosso Intensive Makeup Course in Beverly Hills is the place to attend for the optimal makeup training and certification.
Learn from the Expert

Her knowledge and style of teaching is like no other. For almost two decades, Kimberley Bosso's Intensive Makeup course attracts aspiring MUA's from around the world. Her reputation is at the top of the list for being among the best makeup schools in California for makeup mavens. With a maximum of 4 students per course accepted, you will get to have hands-ons experience, observe makeup demos, and learn personally from Celebrity Makeup Artist Kimberley Bosso with a one-on-one style of teaching. Because these are smaller grouped makeup classes, each student gets the opportunity to receive Kimberley's method of teaching similar to a "private makeup lesson". Kimberley designed the Bosso Intensive exclusive makeup courses for all levels. So if you're a beginner MUA, or have some experience as a YouTube/ Instagram makeup artist, or more seasoned pro, Kimberley caters to each students level individually to make sure every artist walks out her door with absolute confidence in what they learned.
Bosso brings you the widest range of makeup classes, courses, makeup lessons and workshops all designed for your level of experience. Choose from the 2 Day Intensive, 4 Day Intensive, and 6 day Intensive Makeup Courses and get first-hand experience learning from the best makeup artist in Los Angeles!
Learn the Latest Trends and Techniques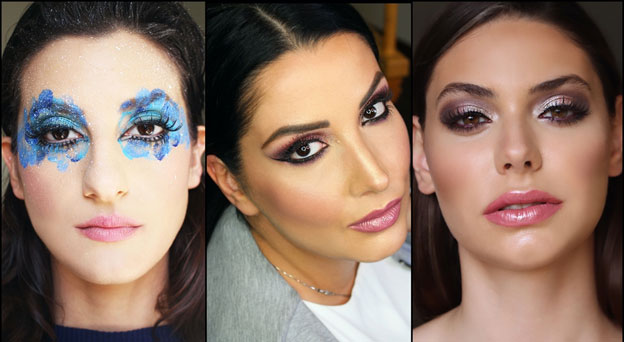 So what makes Bosso at the top of the list for the best makeup schools in California?
With Kimberley's history and background within the makeup and fashion industry, Bosso Intensive Makeup School in Beverly Hills gives each student the training and knowledge they need to succeed for a makeup career with longevity. Kimberley believes makeup technique and staying abreast of the latest in the makeup world is crucial but is not enough to sustain an epic career. She teaches her students crucial business savvy, going well beyond just technique. Most makeup schools in Los Angeles just teach the basics and give you a bit of industry knowledge, or owners hire average makeup teachers to teach for them. But to teach what matters the most for sustainability, they leave this vital part out, thus why students give Kimberley the name "the boss of makeup educators". Bosso's classes are not only full of all you need to know for a flourishing makeup career, but are so much fun. Students build lasting and supportive relationships during and long after at events that Bosso Makeup School invites graduates on after they've completed their training. And to top all this goodness off, Kimberley continues to mentor her grads long after they leave her course. Any time they need some advice, she is always there to help as well as offering her grads makeup gigs when the arise.

Makeup Training in the Heart of Beverly Hills
We offer:
2, 4 and 6 day makeup classes (intensive) 40-60 in one week
Taught by Celeb Makeup Artist Kimberley Bosso
Learn theory and get ample hands-on makeup training
Only 4 students per class accepted
Receive a Professional Certificate in both Traditional & Airbrush Makeup
Affordable makeup classes in California (and Tampa Bay)
Exclusive one-on-one style of teaching
All the products, tools, and models are provided for your training
Detailed Makeup Classes
At Bosso makeup school, you'll learn more than you could imagine. Upon graduating, students are astonished how much they've learned in less than a weeks time, and while retaining all the information with Kimberley's unique method of breaking down every aspect of makeup artistry.
"Her current and modern power point presentation was relatable in a pop culture sense. It helped me SO much in understanding about each individual face. The "break it down, step by step" style she has while teaching is genius when the demo part of the morning happens", says graduate Joanna Larson that went on to work on sets such as Access Hollywood and Extra. "The best part about Bosso Makeup Course is us graduates can come back at no additional cost to refresh or brush up on the latest trends indefinitely which I find incredible!!"
You will find all the details of each type of makeup course on the website under Enroll in Makeup School.