NYFW is over, and the fervor has passed (at least until next time). And while we'll have to wait forever (aka mid September) for some new fashion from our favorite designers, the fall 2018 shows this past February had plenty of stunning and bold looks to hold us over.  The Bosso team was on site this NYFW, but don't worry, we weren't all work and no play. I had plenty of time to scope out my runway faves. Check out the NYFW makeup trends I loved below, they're sure to be a staple all season long.
Natural Skin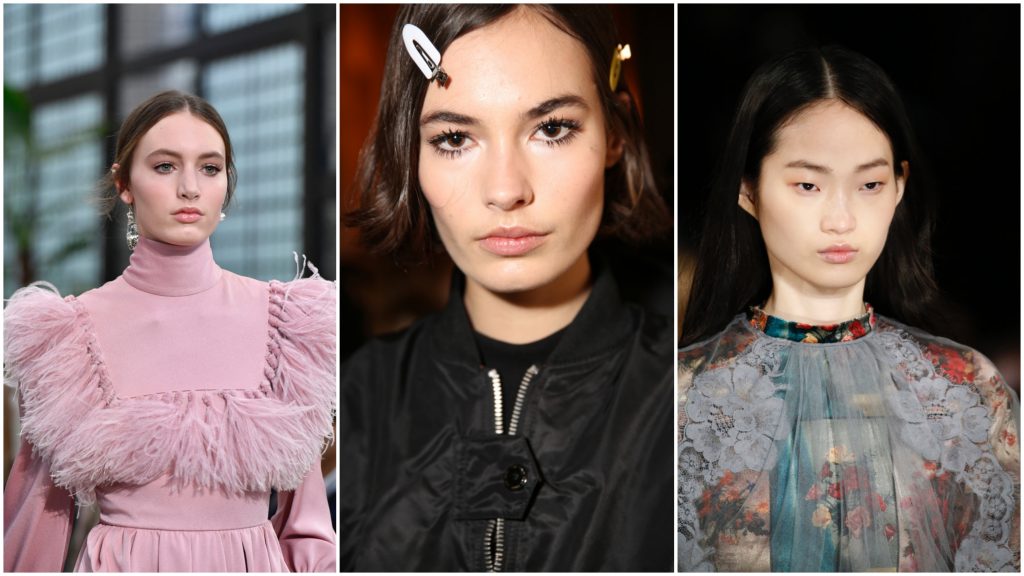 As you may know, I love NYFW makeup trends, and at the top of my list right now is natural-looking makeup; get your glow on! The runway this season reflected a move away from cakey skin (yuck) toward a more glossy, no-makeup makeup look. Probably the most bare face we saw this season was at the Stella McCartney show. Models were wearing products from makeup artist's Pat McGrath's Labs line. McGrath said, "It's very easy, very simple. Stella just wanted the girls to be themselves — so really gorgeous." Fresh faces also appeared at the John Galliano and Givenchy shows.
The Bosso team also worked on creating gorgeous glossy skin for Fllumae and Bereshift. For a luminous look I recommend using our Bosso SKINtillating Liquid with Laura Mercier's 'Flawless' Rose Oil, a cream foundation, soft blush, and Boss of Glow for a natural looking highlight.
Bright Eyes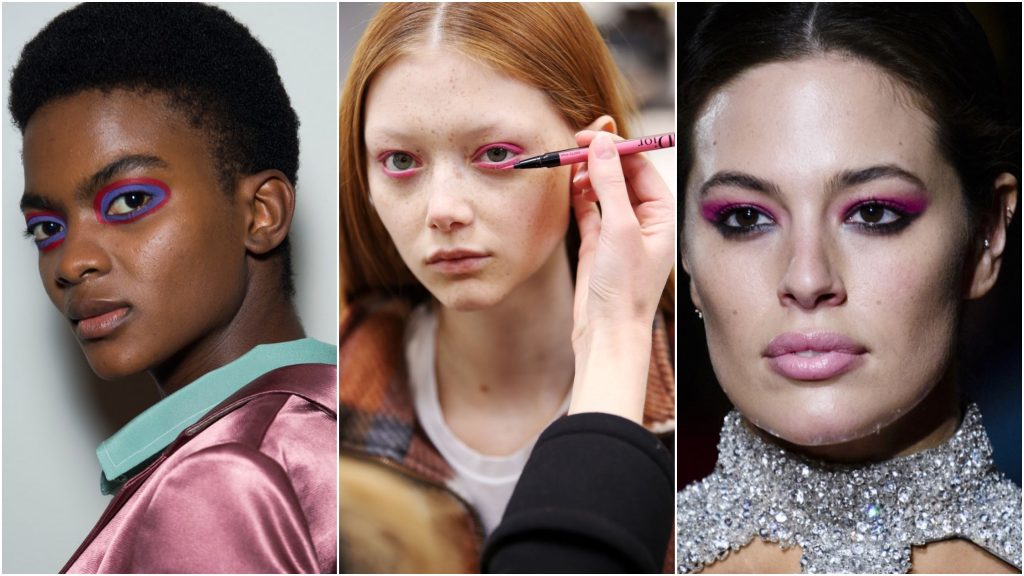 One of the top NYFW makeup trends was bright and beautiful eyes! Models were showstopping in gilded-gold glitter eyes, bright and bold jewel-tone shadows, and fun and totally retro with vibrant liner.
While we definitely saw the traditional jet-black cat and smokey-eyes, color came out to play with many designer's makeup looks. At the Sies Marjan show, models donned a two-tone eye look with richly pigmented colors (check out our dual-colored eye tutorial here).
At Dior, we saw bright pastels traced along the upper and lower lash lines. And at a lineup of other runways jewel-shadowed lids came out to play, with models painted in deep pinks, greens, and blues. Our favorite, the fabulous Ashley Graham rocking fuchsia lids at Christian Siriano.
If you're going for a bold eye, perfect for spring and fall alike, I suggest trying my crease-resistant Vegan shadows in Halle "Berry" or Emma "Sunset", or for a more lined look, Bosso's gel liners in Pot of Gold or In the Navy.
Radiant Lips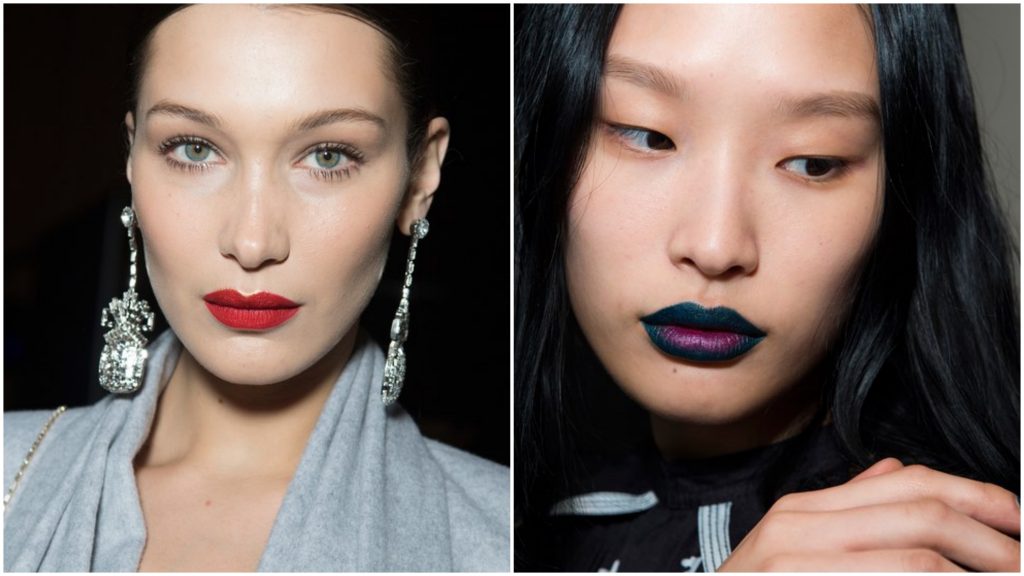 This fashion week showcased an array of lip styles. We had elegant and chic on one side of the spectrum, with grunge on the other. Either way, I promise they were all super gorge!
Brandon Maxwell showed off a classic and poised red lip that would make Miss T-Swift proud, accented with gold lip gloss and silvery-white glitter. While Maybelline's new Lip Python kits made an appearance to create a two-toned look (check out a tutorial here), titled Self Portrait,  that is absolutely to die for. A striking layering of green, and plum, it creates a super glam-grunge look.
You can check out my line of Ultra Alluring Lipsticks for both classic colors and complementary ones that are perfect for pairing.
Flower Accents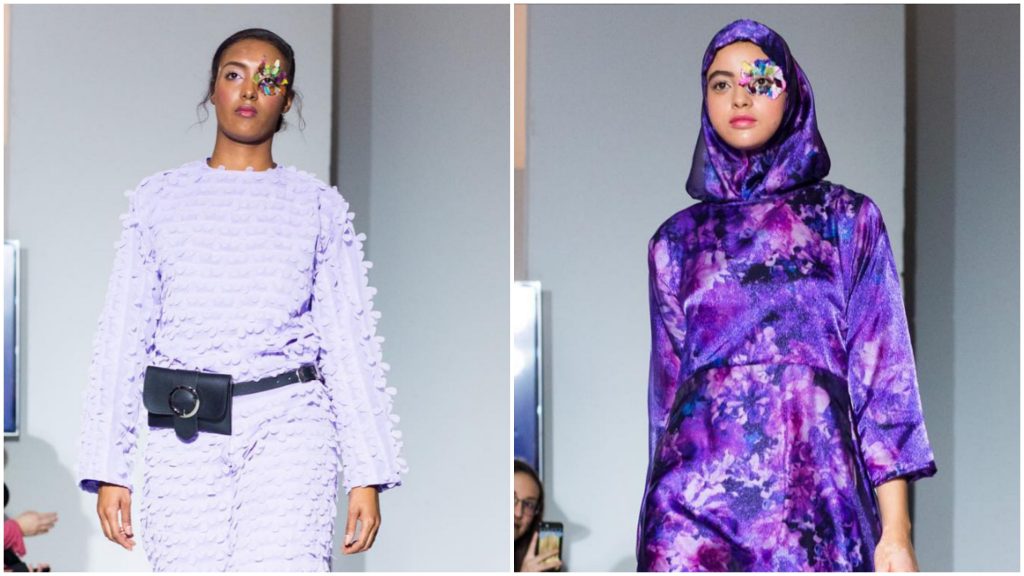 The Bosso team was working hard this fashion week at the Fllumae show, where we created ethereal glowing skin and flower petal art. The Fllumae runway showcased a ton of beautiful colors and it was a lot of fun to play off of. To achieve this elegant style, we pressed and dried an arrangement of flowers and then applied with eyelash glue. A more detailed post of our NYFW work to come!
Let me know your favorite fashion week look in the comments! And if you're recreating one of my faves, don't forget to post a picture on Instagram and tag @bossomakeupbeverlyhills, so I can take a peek at your totally trendy makeup.